Elf Frank Myrrh
North Pole Radio News Anchor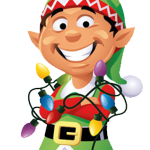 Elf Frank Myrrh is one of the original North Pole news broadcasters on Kringle Radio.
He is a dedicated elf who's live reports from all over the North Pole are known around the world. Frank anchors the North Pole newsroom year-round and takes the important reporting seat at North Pole Flight Command for Santa's flight around the world. In a poll recently conducted Frank was name the most trusted name in North Pole Radio News.
Here is a news report Frank filed from the North Pole Tracking Center last Christmas in the hours before Santa launched:
Frank is single, lives alone with his cat Nero, and enjoys watching documentaries and baseball in his spare time.