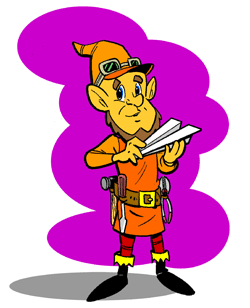 Elf Quinton Q. Quigley is a little like Elf White Shoes — he loves everything in the sky. That's not too surprising. After all, Quinton and White Shoes are brothers. But unlike White Shoes, Quinton's fascination is with flight — specifically, Santa's flight.
Quinton takes apart Santa's sleigh every day after Christmas and examines it from top to bottom.
He interviews Santa and all the reindeer about the performance of the sleigh. Using modern computer technology Elf Quinton pours over data collected from Santa's flight around the world. And every year, after hours and hours of study, redesign, and testing he builds a new sleigh for Santa from the ground up. Santa charges Elf Quinton with building a faster sleigh each year. While Quinton understands that Santa loves sleighs and he loves to go fast he knows that really Santa wants a faster sleigh because his job becomes bigger and bigger each year. Santa has to go faster. And that is Quinton's main job.
So he tears apart the sleigh and builds a new one each year. Starting in the early summer months Elf Quinton is testing new sleigh designs and by the middle of summer Santa is there testing the new sleigh with him. Together they work with hundreds of elves in the research and development department to make Santa fly faster than ever each year.
But even then Elf Quinton's work is not done.
On Christmas Eve he heads the tracking department at the North Pole. He knows where Santa is at all times and he provides guidance and communication for the entire length of Santa's flight. Other than Santa himself there might not be a harder worker than Elf Quinton on all of Santa's staff.
Elf Quinton likes to work but he does enjoy a few hobbies in his spare time. He enjoys making paper airplanes (he even makes paper sleighs), flying kites and working on his hot rod, a 1968 Pontiac GTO, affectionately called "The Goat".
Quinton lives with his wife Mable, they have three children and a pet turtle named "Peanut". Quinton recently adopted a one-eyed three legged dog that he named "Lucky".