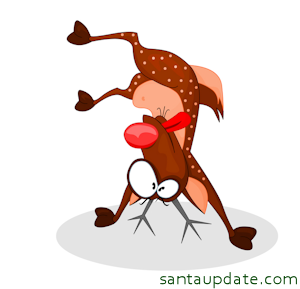 ****BREAKING NEWS****
This just in from Santa's Stables: Elf Victor Reports that Dasher, one of Santa's finest reindeer, has taken ill. It is unknown at this time how serious Dasher's condition is or whether or not he will be able to fly with Santa on Christmas Eve.
"He just looks miserable, the poor guy" Elf Victor said. "He is running a slight fever, can't sleep and doesn't want to eat a thing. I kept him from working out this morning and he didn't even put up a fuss about it. That just isn't like him."
Elf Dr. Lionel has been dispatched to Santa's Stables to conduct testing. "I'm not a reindeer doctor, I'm an elf doctor" Elf Lionel told me. "But we worry about the reindeer and the kinds of bugs they can get. If Dasher has a bad bug it could spread to the other reindeer and that is why I'm going over there. A flu like bug can pass from reindeer to reindeer, just like a bug can pass from person to person. We need to find out if Dasher has a bug and if it is contagious."
Santa was called immediately and told of Dasher's condition. Santa has plenty of reindeer to help on Christmas Eve, so that isn't a worry. Right now all are just concerned for a very beloved member of the North Pole family.
— Elf Ernest
https://santaupdate.com/wp-content/uploads/2023/01/newlogo23f.png
0
0
Elf Ernest
https://santaupdate.com/wp-content/uploads/2023/01/newlogo23f.png
Elf Ernest
2011-12-21 06:00:08
2011-12-16 23:25:41
Dasher Doesn't Feel Very Well