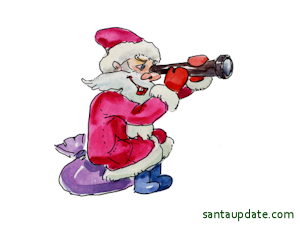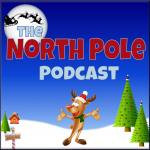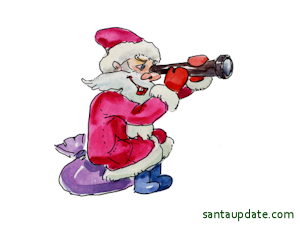 As the hours quickly tick away for Santa's flight it is becoming more and more clear that the elf crew at the North Pole and that the elves numbered in the millions around the world are expending every resource to get the job of Operation Merry Christmas done. But all indications from every department say that Santa just might not be ready in time.
"I'm a big enough man to admit that I need help," Santa told me by telephone this morning. "Our work at the North Pole is going about as good as we can expect. I don't need people to come there to help. In fact, if there were any more elves or reindeer at the North Pole I think it would slow things down a little. Where we are coming up short are on elves out in the field. I need more eyes on the ground and eyes in the sky. This year's ride looks a little rough considering the problems we're having right now with the sleigh and the weather. So I need "secret spies" everywhere to take the Elf Oath and work for me between now and Christmas morning."
Many of you are familiar with Santa's Secret Spies. Many of you are already elves in the service of Santa. You understand.
But many more folks out there don't understand. So I'll explain it again.
A secret spy for Santa is not someone who reports people to the naughty list. A secret spy is someone who watches out for dangers for Santa right where they live — and then they report those dangers right here to the North Pole.
What kind of dangers could you be looking for? Well, it could be anything. It could be bad weather. It could be strange objects in the sky. It could be a bad roof on a house, a good landing place for the reindeer, or anything that you think should be warned about. We have had secret spies who report Christmas lights that are out that Santa might not see in his flight into a neighborhood. We have had spies report on non-believers in the area, big dogs, high fences, stray antennas. We have also had spies report on the best local radio stations where Santa can pick up Christmas music to listen to as he flies around.
A secret spy can be a child or an adult, a boy or a girl. It is serious business and this is where Santa needs the most help.
"We need millions of secret spies," Elf Agent X, director of Santa's Secret Spies, told me. "In fact, we can never have enough of them."
If we get enough looking out for Santa this year Santa will make it just fine. Click here to become a secret spy for Santa. Or, if you're already a secret spy, click here to report something you see.
— Elf Ernest
Click here to listen to Elf Rusty Belz deliver the audio version of this Santa Update
https://santaupdate.com/wp-content/uploads/2011/12/santaspyglass.png
225
300
Elf Ernest
https://santaupdate.com/wp-content/uploads/2023/01/newlogo23f.png
Elf Ernest
2011-12-21 02:00:47
2011-12-21 14:22:07
Santa Sends a Call Out for Christmas Help