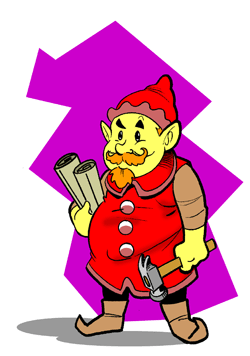 The Bah Humbug Virus is starting to hit the North Pole in a bad way. Empty work stations in Santa's Workshop and more elves in the waiting room at the North Pole Health Clinic all speak to what is happening. Elf Bernard says production is a little behind in Santa's workshop as a result of so many sick elves.
"The outbreak has definitely gotten worse" Elf Dr. Lionel P. Spock told me. "I had high hopes that we had limited it to the 4 elves that originally contracted it. Those four people must have come into contact with more elves than they realized because as of right now we have 238 elves out sick. The good thing is that they have all come from the workshop. So there is still a chance that we can prevent this from getting any worse. A few hours ago I asked Elf Bernard to shut down the workshop for a few hours and clean everything. I've also sent over a few of my assistants to examine every elf for symptoms of the virus. If they find any, they will immediately be quarantined with the rest of the sick elves. We just can't take any chances from here on out. We can't let this outbreak get any worse."
Santa is aware of the situation and he is receiving updates hourly. Santa himself has been tested and does NOT have the virus.
Elf Bernard is beside himself. "I can't believe this!" Elf Bernard said. "First I have 200 elves call in sick and now I'm forced to shut down. We were already behind. If it wasn't for Elf Wally loaning me some elves from the wrapping department I would really be in trouble. I would be forced to shut down at least one production line and maybe even two. I just hope that all of this cleaning gets rid of the virus or I just wasted four hours for nothing."
https://santaupdate.com/wp-content/uploads/2023/01/newlogo23f.png
0
0
Elf Ernest
https://santaupdate.com/wp-content/uploads/2023/01/newlogo23f.png
Elf Ernest
2012-12-02 10:39:05
2012-12-02 10:39:05
Santa's Workshop Bogs Down as Virus Worsens