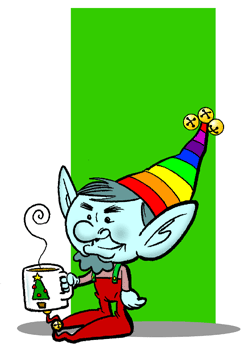 Santa's workshop is operating by candle light but hearts are all merry as progress is being made on Operation Merry Christmas.
"We set a new record," Elf Bernard. "We have made more toys the past 24 hours than ever before. We have never worked so hard nor made so much. If we can keep this up we might make it after all!"
Normally Christmas music plays in the background while the elves work. But with the power only being used for tools there is no music. But the elves fixed that by singing. They are currently on their 3200nd round of "Jingle Bells" as I type this. It never gets old.
But not everyone is happy right now. Elf Grumbles, who is normally a pretty easy going guy, is getting nervous. His job as the head of safety at the North Pole has been challenging the last few days. And today he is concerned about how many elves are working in Santa's Workshop.
"Have you looked in there?" Elf Grumbles asked me. "They are working shoulder to shoulder in there. There is barely any room to walk. I'm afraid that someone will get hurt!"
No accidents have happened yet. Never the less, Santa took his call from Elf Grumbles seriously and he allowed him to walk through the workshop to video tape what is going on. I will upload that video to Santa shortly.
"He better not take anyone off task!" Elf Bernard complained. "I have waited too long to hit our stride this year and I'm not turning back now."
While Elf Bernard is feeling good about things today Elf Wally isn't feeling too optimistic. More about that tomorrow.
— Elf Ernest
https://santaupdate.com/wp-content/uploads/2023/01/newlogo23f.png
0
0
Elf Ernest
https://santaupdate.com/wp-content/uploads/2023/01/newlogo23f.png
Elf Ernest
2012-12-19 02:45:45
2012-12-19 02:45:55
Elf Grumbles Suggests Fewer People in Santa's Workshop