Approximately 10 miles east of Hanover in Germany Santa came in hard over snow drifts and took out a fence.
"He was hot dogging a little bit," Elf Billy from the Tracking Department told me. "Santa will do that from time to time. They have had a lot of slow there and Santa was actually on the ground, visiting a rural residence — farm country out there. They have these huge snow drifts and Santa was riding the drifts like waves, going up and down at about 40 miles per hour. He hit a big drift but instead of riding up to the crest of it he went through it because underneath all that snow was an old fence. He pretty much smashed it up. Santa stopped to survey the damage and decided whoever owned the fence probably deserved a new one for Christmas".
Luckily for Santa he has some carpenter elves who aren't doing much at the moment so he ordered a sleigh and they are on their way to go build a new fence so that Santa can get back on his way.
Hanover, Frankfurt and Prague all report a Merry Christmas at this time.
— Elf Ernest
Direct from Santa's Newsroom at the North Pole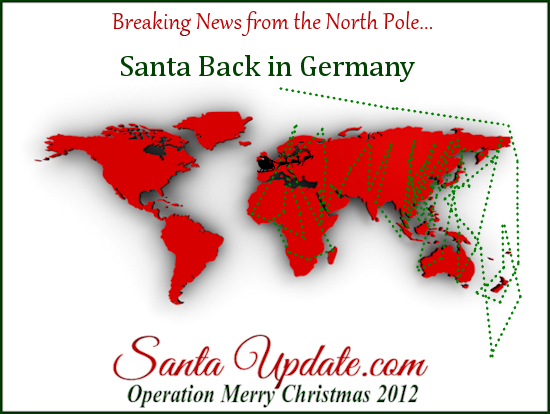 Command Center Status: All systems are go, all lights are green
Sleigh Status: 12447 mph
Reindeer Status: Awesome
Latest Secret Spy Reports:
Where it is Christmas Eve now: Salt Lake City, Las Vegas, Seattle, San Francisco, Los Angles, Portland, Vancouver
Where it is Christmas morning now: Hanover, Frankfurt, Prague, Hammerfest, Oslo, Amsterdam, Salzburg, Tunis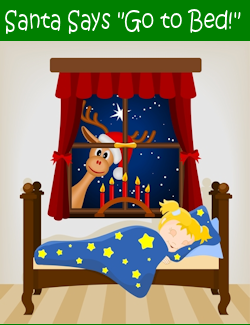 Kids in these places should be in bed by now:
Toronto
Halifax
Brazil
Greenland
https://santaupdate.com/wp-content/uploads/2023/01/newlogo23f.png
0
0
Elf Ernest
https://santaupdate.com/wp-content/uploads/2023/01/newlogo23f.png
Elf Ernest
2012-12-24 19:00:56
2012-12-24 19:00:57
Broken Fence in Germany Temporarily Slows Down Santa