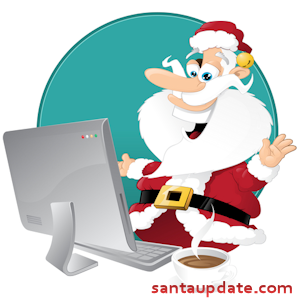 Can you believe it? Just six months until Christmas Eve!
Hello, friends! Santa and Mrs. Claus are still traveling and things are still a bit lonely here at the North Pole. But, thanks to your emails and letters, I have had a lot of questions to answer. One question in particular caught my attention as particularly creative and I thought I'd share it with you this month. Nine year old Emily Tyson of Bakersfield, California in the USA wrote to ask if Santa ever shaves his beard during hot weather.
That's a great question, actually. Santa is very particular about his beard. And the answer might surprise you.
Yes, Santa will sometimes cut his beard short during long periods of warm weather when it is not Christmas time. He says that cutting his beard down helps it to stay healthy. He likes to have a nice full beard by the time Christmas comes around but when it isn't Christmas he will trim it back a bit. It helps sometimes when he is traveling and he doesn't want people to notice him. It doesn't always work because Santa is Santa. But sometimes if he trims his beard way back and he does wear a lot of red he can walk in crowds and people won't know who he is.
As we told you last month Santa is traveling around the world working with the training of elves in different kinds of work. He is also visiting a lot of places where people need help. For example, Santa is working with a special project to bring water to villages in northern India. He has sent a team of elves to help build some schools in Africa. And Mrs. Claus has even signed Santa up to teach basic first aid in China. So Santa is really, really busy right now.
However, as we told you last month, Santa will be celebrating Christmas in July online. We are also very happy to announce that several elves will be available all during the month of July to answer questions at the Merry Forums. We will answer questions like the one above about Santa's beard. So if you have deep questions about Santa, elves or the North Pole, this would be a good time to send it in!
Santa will be chatting online live in different time zones around the world on July 27th and July 28th. Please be sure to stay tuned here to Santa Update.com for specific times to be posted soon!
— Elf Ernest
https://santaupdate.com/wp-content/uploads/2023/01/newlogo23f.png
0
0
Elf Ernest
https://santaupdate.com/wp-content/uploads/2023/01/newlogo23f.png
Elf Ernest
2013-06-24 00:18:44
2013-06-23 21:41:18
Just SIX Months Until Christmas Eve