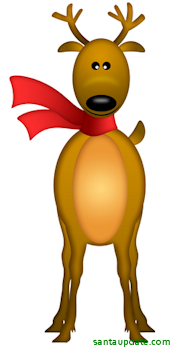 It is a brilliant day here at the North Pole. The sun is shining brightly over a fresh new blanket of snow and the skies are filled with flying reindeer. It's moving day for many of Santa's reindeer.
By the thousands reindeer are flocking to the North Pole from northern mountain climates where they have been living most of the year since last Christmas. Some come from the Canadian Rockies, others from Norway, Finland and Siberia. Most have been on private ranches quietly preparing for the season ahead.
"Reindeer are quiet, private animals," explained Elf Victor, Santa's head elf of reindeer operations. "They enjoy the wild, the isolated mountain areas of the world where they can roam in peace. As winter settles in after the fall leaves descend they know instinctively when it is time to head to the North Pole. We've been expecting them for days and they are right on time."
Santa, in fact, made sure he stayed home today to greet them. He has great respect for reindeer and frequently calls them amongst the most intelligent and special creatures on the face of the earth. Santa just wouldn't be Santa without them.
As they land Elf Victor and his crew separate them into teams and spread them out to the many reindeer barns at the North Pole compound. Soon they will begin training and within a few weeks the Reindeer Games will begin.
It is another sign that Christmas is coming!
https://santaupdate.com/wp-content/uploads/2023/01/newlogo23f.png
0
0
Elf Ernest
https://santaupdate.com/wp-content/uploads/2023/01/newlogo23f.png
Elf Ernest
2013-11-11 03:12:57
2013-11-11 05:30:30
Reindeer Flock to the North Pole to Get Ready for Christmas