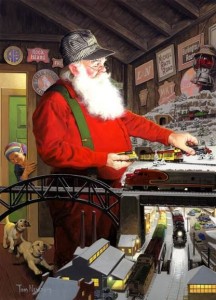 Greetings one and all,
Holy smokes – it is only 10 months until Christmas Eve! Where does the time go?
It is a snowy time here at the North Pole, just as it has been for many of you. We're quite used to it but like everyone else we get a little hankerin' every now and then for some warm weather.
That is perhaps why Santa and Mrs. Claus have taken a little vacation this week to somewhere in Central America. Santa is, as we speak, on a private boat out in the Pacific, enjoying some fishing time with members of his family.
Santa loves to fish. He fishes, believe it or not, every chance he gets. Santa says fishing is an art, just like poetry or sculpting.
While Santa is away the fellas in the Workshop are working on a surprise for Santa: they are building him a new toolshed.
Santa has, as you can imagine, a lot of tools and he is very particular about how they are stored and organized. He got a lot of new tools for Christmas (he always does) and Mrs. Claus told us as part of her Christmas present to him she wanted to build Santa a new toolshed.
They are trying to get it finished before Santa returns because the next three months are times when Santa does most of his tinkering and toy design for the new year ahead. He's going to need his tools and his space to work.
Thanks for checking in!
— Elf Ernest
https://santaupdate.com/wp-content/uploads/2023/01/newlogo23f.png
0
0
Elf Ernest
https://santaupdate.com/wp-content/uploads/2023/01/newlogo23f.png
Elf Ernest
2014-02-24 00:05:21
2014-02-22 07:23:09
Just 10 Months Until Christmas