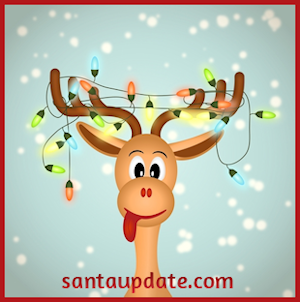 I cannot remember a year where so many reindeer were at the North Pole so early. They have been hard at work already.
If you recall, there is a massive airlift of coal coming to the North Pole. They started weeks ago. Reindeer, elves and sleighs are coming to the North Pole with load after load of coal being heaped high in a pit that was dug out behind the Building with No Name.
Like all of us elves these reindeer have families. There are thousands of reindeer working for Santa and their families are all stationed in Santa's Stables. Elf Victor says there are thousands and thousands of young and even baby reindeer at the North Pole at this time.
For Santa that is a fortunate thing. It is his job to give each baby reindeer their name – a fun job that Santa likes to share with you. If you have an idea of a good name for Santa to use for one of his new reindeer, go to this page and tell us your idea.
Every day we make a big list of the names that people send in and Santa uses that list when he visits Santa's stables to feed the reindeer and to name all the babies. It is something he does several times a week.
These baby reindeer won't be working for Santa this year. They will be working to make their young bodies strong so they can one day train to fly. But getting an official name from Santa is a big, big deal to them. It is their first step in going to work at the North Pole, something that every young reindeer wants to do.
https://santaupdate.com/wp-content/uploads/2023/01/newlogo23f.png
0
0
Elf Ernest
https://santaupdate.com/wp-content/uploads/2023/01/newlogo23f.png
Elf Ernest
2014-11-07 02:20:56
2014-11-02 06:29:21
Help Santa Name the Baby Reindeer