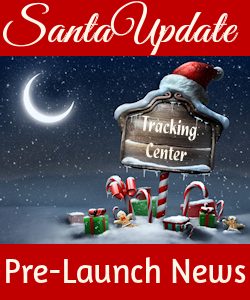 This is a fact: in less than 24 hours Santa is supposed to fly his sleigh. As of this moment, there are no reindeer at the North Pole to pull that sleigh.
Be despite this fact Santa remains undaunted. In speaking with him personally a short time ago Santa told me that all the fuss over the reindeer this year has been silly.
Santa and the reindeer have worked in partnership for centuries. Never have they failed to come together.
"They know when Christmas is," Santa told me. "Christmas is what they were born to do. They will be here, I am absolutely certain of it."
I am glad Santa is so confident. Never in the history of the North Pole have I seen so many so anxious about whether or not Christmas will happen.
— Elf Ernest



Click here to Visit the Tracking Center ~ Click here to Track Santa by Text
North Pole Weather: -20 degrees F, ***Snow **BLIZZARD WARNING**
Hours until LIVE Radio Broadcast News begins on Kringle Radio: 2 hours
Hours until Santa launches the sleigh: 30 hours


https://santaupdate.com/wp-content/uploads/2023/01/newlogo23f.png
0
0
Elf Ernest
https://santaupdate.com/wp-content/uploads/2023/01/newlogo23f.png
Elf Ernest
2015-12-23 01:00:45
2015-12-21 10:19:50
Santa Remains Confident