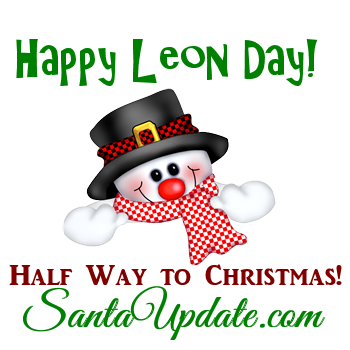 It's that special day that only happens once a year – today marks the halfway point to Christmas and only six months remains until Santa flies on Christmas Eve.
We call it "Leon Day". Leon is noel spelled backwards.
The funny thing is that everyone here at the North Pole woke up today with lots of backwards stuff going on.
Someone, for example, switched the letters around on the sign over Santa's Workshop. The sign reads "S'tanas Pohskrow" now.
Everyone thought it turned into a Polish restaurant or something.
But other stuff was going on too.
All the chairs were turned around in the elf lunchroom.
All the conveyors in Santa's workshop were running backwards, too.
That slowed things down a bit and actually cheesed off Elf Bernard a little bit.
But nobody is talking. We don't know who did this, just like at our picnic last month.
It can't be an elf.
An elf would have a hard time keeping this kind of thing a secret from other elves. Elves are good at keeping Santa's secrets but they are pretty bad at keeping secrets among themselves.
But nobody here has a clue who did it.
If we find out, we will let you know!
https://santaupdate.com/wp-content/uploads/2021/11/newlogo21.png
0
0
Elf Ernest
https://santaupdate.com/wp-content/uploads/2021/11/newlogo21.png
Elf Ernest
2016-06-24 03:00:37
2016-06-21 13:02:04
Happy Leon Day -- 6 Months to Christmas!