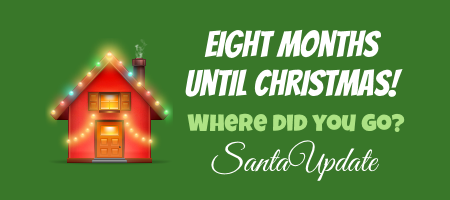 Greetings! Welcome to what we call the "bottom of the year".
We don't know why it is but every year at this time and for the next six to eight weeks or so things kind of slow down for us at the North Pole.
Well, not for US. For YOU!
For some reason, the second half of April until about the middle of June we get less mail, fewer phone calls and, well, just less feedback from folks around the world.
It is kind like we disappear or people lose our phone number of something.
Santa has always says it is a change of season thing. In some parts of the world the winter is ending and the days are getting warmer and longer. In other parts of the world, it is autumn and the days are still warm but getting a little shorter.
It is a time of great weather and lots of activities that do not lead people to think much of Christmas.
I think that is an interesting theory.
Santa is right. When there is snow on the ground many tend to think of Christmas and Santa and the North Pole. But in other parts of the world people think of the beach and sun and hot days when it comes to Santa. But when the days are in between – not hot, but not cold – maybe that causes people to think of Christmas a little less.
I talked to Elf Hugo at the North Pole Post Office about it. He agrees a little bit. But he brought up a good point too. While not as much mail comes in for Santa the mail that does arrive is very different than the mail in November and December.
He said kids these days tend to write REALLY long letters to Santa at this time of the year. Again, Hugo can't tell me why and we can't exactly figure it out.
Well, wherever you are I want you to know that even if you might be a little distracted with other activities now, we are still thinking of you and working hard toward our Christmas goals. Things are going very well – as they tend to at this time of the year.
Next month I will catch you up on the plans for summer at the North Pole, including how we are going to help move Santa from his old workshop into his new workshop.
https://santaupdate.com/wp-content/uploads/2018/04/042418.png
200
450
Elf Ernest
https://santaupdate.com/wp-content/uploads/2023/01/newlogo23f.png
Elf Ernest
2018-04-24 00:02:29
2018-04-22 11:52:15
Eight Months Until Christmas