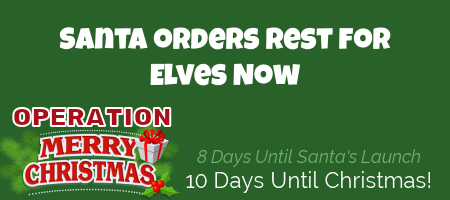 Hi ho! Greetings from the North Pole.
The progress of Operation Merry Christmas this year is stunning. The workshop is way ahead, the wrapping department is all caught up, there's no news of sickness coming out of the North Pole Medical Center, the reindeer are ready to go — it is amazing how smooth this Christmas has been.
That is one reason why elves were surprised to see a little note that showed up this week in their paychecks from Santa. Santa has declared Sunday, December 16th, as a mandatory off day. No elves will be working.
That being said, you should understand that Santa has always worked by what he calls the "six day work rule". He always insists on resting on the 7th day. All the elves already knew this. But still so many elves today are expressing surprise.
Some think that if they stop or slow down it might put the efforts of Operation Merry Christmas behind.
So many were saying that, in fact, that I talked to Santa a little bit about it. (He's out of town, as he is most years at this time).
Santa told me to talk about it on today's update.
"The North Pole is not the only place that should rest tomorrow," Santa said. "It would do everyone everywhere some good to take some down time and get some rest this weekend."
Santa feels very passionate about this topic. "People go too fast and try to do too many things at Christmas sometimes," Santa said. "But taking a good nap or just laying down to read a decent book or even just to think or visit is good for the body and good for the soul."
So here is your official North Pole reminder: take tomorrow off. Turn off your TVs and your devices. Rest. Relax. Enjoy your Christmas tree.
(There, Santa. How did I do?)

https://santaupdate.com/wp-content/uploads/2018/12/121518b.png
200
450
Elf Ernest
https://santaupdate.com/wp-content/uploads/2023/01/newlogo23f.png
Elf Ernest
2018-12-15 00:45:49
2018-12-13 19:55:35
Santa Calls for a Day Off