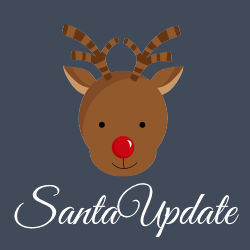 Greetings all! Some more good news today to share with you about Donner.
Donner worked out today with the rest of Santa's A-team of reindeer. While handlers were watching him very closely and there were limits placed on him with the workout everything went very well and doctors reported that Donner is progressing nicely.
There is a little routine here at the North Pole with the reindeer. Of course, it is a foregone conclusion just who the final team will be that are chosen to fly Santa. At least in most years. But in a year like this one there is some suspense with this little routine. On December 23rd, an official roster of chosen reindeer is posted that names those who are selected to fly Santa.
Nobody knows yet if Donner's name will be on that list come Monday.
If you ask Donner, however, he would tell you that he is going and that his name will be on the top of that list.
Today's successful work out is another sign that Donner is right and will be flying with Santa again this year.