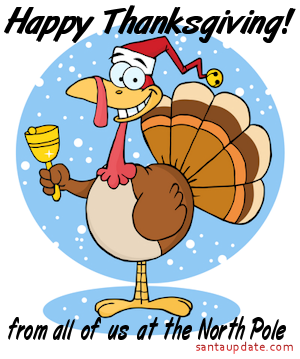 As we celebrate thanksgiving here at the North Pole we are reminded of what a tough year it has been across the globe this year. Many areas of the world have suffered damage from terrible storms. There have been earthquakes. And many, many people have been displaced from their homes because of job problems or unrest. With all of this in mind Santa has decided to declare a Season of Thanksgiving.
"This year has been a tough one for a lot of people around the world." Santa said. "Millions have lost their jobs, thousands have lost their homes. Some have lost everything they owned. For those people it is crucial to stop and take a look around. Look for those things that you have been blessed with. Look for those things that help you make it through your day and give thanks for those. Look for those things that make you happy. That's what the holiday season is all about. It's not about giving and receiving gifts. It's about giving thanks for those things you already have. This holiday season will be a season of thanks — all the way through. We will have an attitude of gratitude."
So here's Santa assignment to you. Take a moment to look around and figure out what you're thankful for. Then write a letter to Santa telling him why you're thankful for that.
Happy Thanksgiving from all of us at the North Pole!
— Elf Ernest
https://santaupdate.com/wp-content/uploads/2023/01/newlogo23f.png
0
0
Elf Ernest
https://santaupdate.com/wp-content/uploads/2023/01/newlogo23f.png
Elf Ernest
2011-11-24 06:00:08
2011-11-20 23:14:24
Santa Declares a Season of Thanksgiving