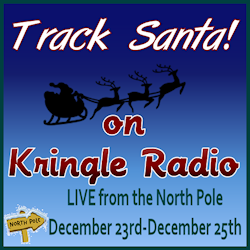 We're very excited to announce that our 22nd year of tracking Santa on Christmas Eve will be enhanced with LIVE radio updates from the North Pole beginning on December 23rd, 2013, and will be heard on Kringle Radio.
"This is a monumental team effort and a first-of-it's-kind effort in broadcasting news from my home here at the North Pole," Santa Claus said. "We have elves around the world and an entire network of broadcast engineers, stations and newscasters who are sacrificing a lot of their time at Christmas to make this happen. The news that breaks here on Santa Update will continue to be shared on the Internet, as it always has. But now that news will be broadcast on the radio, too. It should make it easier than ever to follow me around the world."
Plans call for these broadcasts to be anchored by Elf Rusty Belz here at the North Pole Santa Tracking Central Command Center. His voice, as well as the voices of Elf Ernest, Elf Victor, Elf Billy, Elf Hugo and others of your favorites here at the North Pole will be heard during the broadcast. Other reporter elves stationed at tracking stations around the globe will also be heard.
The special live broadcast is scheduled to begin on December 23rd, several hours before Santa's scheduled December 24th launch time. As news updates come in every 15 minutes after Santa launches that information will be broadcast between the regular Christmas music programming at Kringle Radio.
As with all offerings from Santa and the North Pole, these broadcasts will be presented without commercial messaging. (Santa has nothing to sell).
The radio broadcast will be produced by Elf Ernest, Santa's Vice President of Public Relations and Chief Goodwill Ambassador.
https://santaupdate.com/wp-content/uploads/2023/01/newlogo23f.png
0
0
Elf Ernest
https://santaupdate.com/wp-content/uploads/2023/01/newlogo23f.png
Elf Ernest
2013-09-02 06:56:14
2013-09-02 05:12:32
Santa Update Moves to Radio to Track Santa