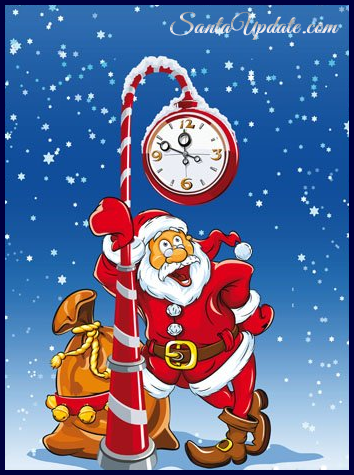 Monday morning has dawned and things are very, very busy at the North Pole.
My department here in Public Relations is about as busy as any department here right now. We have set up the newsdesk and are putting the pieces in place to broadcast the news of tracking Santa on Kringle Radio. We begin broadcasting in HOURS! And we have to be on the air for more than 50 hours.
We begin as Christmas Eve starts to hit the time zones of the world, which is just hours away. So we're very, very busy.
The workshop, of course, is in a frenzy today.
Elves are everywhere, rushing to get things done. I'd ask Elf Bernard how it is going but I don't want to disturb him.
Over at Santa's Stables Elf Victor has begun to separate the different teams of reindeer. The A Team — Dasher, Dancer, Prancer, Vixen, Comet, Cupid, Donner, Blitzen and Rudolph are seeing the vet today to get cleared for flight duty. Once that is done, they will be moved a little away from the North Pole compound to rest. Elf Victor plans for a light workout for them tomorrow if the weather isn't too bad.
The weather, however, is awful right now. Howling winds, blowing snow everywhere. Elf Billy says it could be like this all week.
Elf Wally in the Wrapping Department is very concerned. He's not too busy now but the longer the Workshop works the busier he knows he is going to get later.
So there is a lot going on.
You might want to be checking Santa Update frequently throughout the day. As things change I'll be posting up more news more frequently.

https://santaupdate.com/wp-content/uploads/2023/01/newlogo23f.png
0
0
Elf Ernest
https://santaupdate.com/wp-content/uploads/2023/01/newlogo23f.png
Elf Ernest
2013-12-22 12:00:55
2013-11-09 17:48:54
North Pole in Chaos as Christmas Approaches