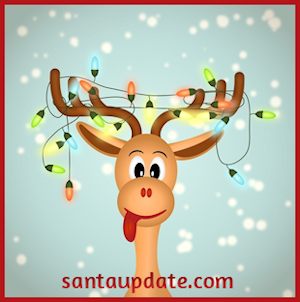 An email received minutes ago from Harper in Auckland, New Zealand who is following along with us on this Christmas Eve writes in a question that has come up several times in the past few hours: what does Santa do if the reindeer get tired in the middle of the flight and give up flying?
Well, first of all, the reindeer never give up. They might get tired and go slower. But they have never given up.
But Santa watches them very closely. And when the reindeer get tired he changes them out for reindeer who are rested and ready to go. In fact, he's got thousands of reindeer in flight right now around the world working on various missions related to Operation Merry Christmas 2013. And thousand more are at the North Pole just waiting to be put to work.
In fact, chances are you'll see Santa use several teams of reindeer on his flight today. It usually happens.



Santa Tracking is now being broadcast live from the North Pole at