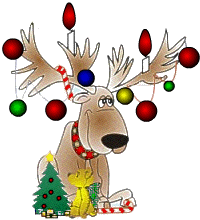 Greetings everyone and Happy Summer! (Well, at least for some of you).
Christmas Eve is just six months from today. Can you believe that? We're half-way there!
It is summer time here at the North Pole only in the respect that many elves have children out of school now and some elf families are taking vacations.
Where do they go and what do they do?
They go see fantastic sights. One of the popular destinations for elf families are the reindeer ranches that Santa operates in places like Norway, Greenland, Peru and Canada.
Santa has reindeer in training year round and depending upon the season there are different things for visitors to see. In Greenland and Norway, for example, young reindeer are learning the basics of running and flying. But in Peru there are babies soon to be born. (It is winter down there, you know).
Some elf families just like to stay home and work on Christmas stuff. It is a good idea because when kids are back in school there is not a lot of time for things like Christmas decorating. So the elves and their families may use some vacation time to work on their displays for the upcoming year.
We received a lot of mail last month after we talked about a special project headed up by Elf Agent X. We still don't know what that project is. But whatever it is it is HUGE. They brought in large bulldozers and earth movers and they are digging deep, deep, deep into the ground over a very large area. We cannot imagine what they are building out there. Maybe Santa has a surprise for us this year? When we know, you will know!
Christmas is not far away! We hope you stay tuned for the countdown.
— Elf Ernest
https://santaupdate.com/wp-content/uploads/2023/01/newlogo23f.png
0
0
Elf Ernest
https://santaupdate.com/wp-content/uploads/2023/01/newlogo23f.png
Elf Ernest
2014-06-24 12:39:42
2014-06-24 12:39:42
Six Months Until Christmas Eve