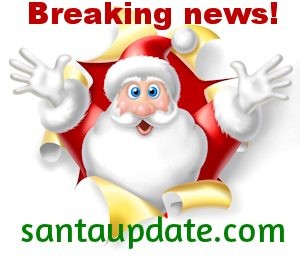 The North Pole Halloween Party was one wild affair. The calendar now says November 1st and I don't think most of the elves have even slept it off yet. It was that epic.
The winner of this year's best Halloween costume contest was Elf Lennie, from the Research and Development Department. Lennie is an electrical engineer.
He used his talents to make the world's first solar powered human Christmas light. He arrived at the party with his costume "off" (it was not yet dark) and everyone complimented him on his costume and how much it looked like a real Christmas light bulb.
But as it got dark, right in the middle of a disco dance number, Len flipped the switch and lit up like a, well, a Christmas light.
He flashed, he blinked, he sparkled – in dozens of colors. The effects were stunning and it seemed that he glowed all night long. He was the runaway winner.
He was a strategic part of the annual food fight as well because Mrs. Claus turned off all the lights just as the fight began (she was trying to limit the damage).
But Lennie was corralled to various parts of the room and he flipped his switch at just the right moments to allow one side to launch food bombs on the other at will. It was a rout.
The elves sang, danced, and of course ate all night long, burning off a lot of steam in the last final real big party before the busy Christmas season.
Today the sun is coming up to a bit of a job in cleaning up. But all are in a good mood as they make their way over to help.
Work hard and play hard. That's what Santa always says. The Halloween party this year certainly was hard play!
https://santaupdate.com/wp-content/uploads/2023/01/newlogo23f.png
0
0
Elf Ernest
https://santaupdate.com/wp-content/uploads/2023/01/newlogo23f.png
Elf Ernest
2015-11-01 02:00:36
2015-10-30 09:49:40
Report on the North Pole Halloween Party