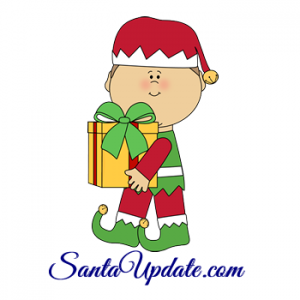 I stopped by the Wrapping Department yesterday and had a little chat with Elf Wally. He's got things humming pretty good over there already — they seem really busy. They are getting ready for the North Pole Wrapping Olympic Games, an event to be held next weekend. It's kind of a training event to get the new elves over there up to speed but like all such contests the elves get very excited for it.
I really love to visit the elves in the Wrapping Department. It is a happy place. Frequently we forget to talk about them until the end of the season when things are in such a rush. And those guys over there can really work fast when they need to.
But we're not to that point yet. They are working fast now and it is interesting to see how fast they can wrap and tape and put ribbons and bows on things but for as fast as they are going right now it's not like watching them towards the end. Things really fly then!
Unlike most areas of the North Pole the Wrapping Department can get a little messy. Little snips of paper go everywhere during a really productive shift.
There's a lady elf over there by the name Elf Dorothy and she is one that Elf Wally calls a "super wrapper". She can wrap anything. She can wrap bikes and palm trees and any kind of odd shaped package you can think of. As a gag she once wrapped Elf Wally and shipped him back to Santa's office with a tag that said "defective" on it. Santa thought it was funny but was more impressed with the job she did getting Wally wrapped. He gives all the toughest wrapping jobs to Elf Dorothy.
Most folks don't take a good look at their presents before they open them. That's because they are so excited for Christmas. But if you think of it you should examine your presents closely this year. Sometimes elves in the wrapping department slip in a nice little piece of candy or even a little note. You should look for that.
https://santaupdate.com/wp-content/uploads/2023/01/newlogo23f.png
0
0
Elf Ernest
https://santaupdate.com/wp-content/uploads/2023/01/newlogo23f.png
Elf Ernest
2015-11-15 08:50:25
2015-11-15 08:50:25
Wrapping Department Gears Up for a Busy Weekend