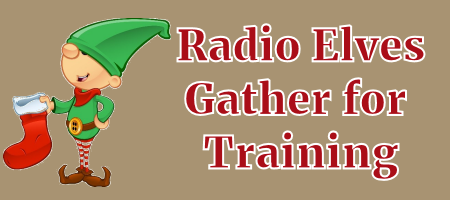 Greetings! There are a lot of elves here in my office this week. They are here to train and to plan for the broadcast of news on Kringle Radio here at the North Pole for this season.
Like everyone else here at the North Pole these elves have received new instructions from Santa. He expects to see improvements over our efforts of the past.
The radio elves have done a really good job. They work round the clock and travel all over the world to provide the news about Santa.
They came this year with some really good ideas, too. I am not sure which of these new ideas will be implemented but it is fun to hear these ideas and to think about what could come from them.
Of course, there will be new efforts to get more of Santa and Mrs. Claus on the radio for interviews and such. And, as usual, that will prove to be difficult.
But there are plenty of elves here from the North Pole just dying to share what they know with the world. I think we will hear from many new voices this year as a result.
But some of our favorites will be back on the air, for sure.
Elf Crash Murphy, for example, is a very popular elf and he will be heard more and more.
All the big name radio announcers you know from our big Santa Tracking show are here in town, too. Elf Holly Berry, Elf Red Stocking — the whole gang is here. They are finding out this week just what their assignments will be for Christmas. Who will sit in the anchor chair at the North Pole? Who will be sent to Europe, Asia and "down under"?
It is kind of exciting.
I won't be able to share all the details of their plans and their meetings with you right away. We have to save up some announcements for later this season.
But I'll tell you this: how would you like to be able to dedicate a song to someone on Christmas Eve? They are talking about that idea and it sounds like it may happen.
So, as they like to say in the radio business, stay tuned. Lots of exciting details are coming!

https://santaupdate.com/wp-content/uploads/2018/09/092818.png
200
450
Elf Ernest
https://santaupdate.com/wp-content/uploads/2023/01/newlogo23f.png
Elf Ernest
2018-09-28 06:01:48
2018-09-28 05:57:34
A Big Year Planned for North Pole Radio