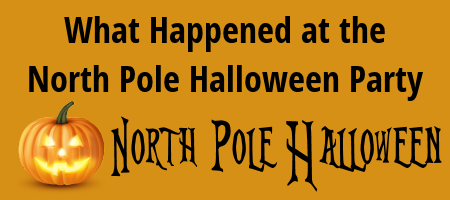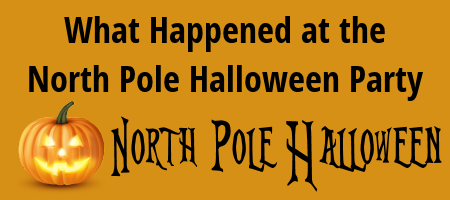 Hi Friends,
There is just no day quite like Halloween at the North Pole. My goodness – what a great day it was and what an epic party we had.
Some of you have been asking all week long if there would be a food fight at the Halloween party again this year. And the answer, of course, is yes. I didn't talk about it earlier because I'm never quite sure if it is going to happen.
But it has become part of the tradition. We can be weird that way, I guess.
Everyone was being so nice. We did gather for lunch together – Mrs. Claus insisted – and we set up for the party together as we usually do. The party was held at the rec center – you know, that place with the big swimming pool? – which worked out well because it is a bigger place for a party.
But everyone was a little unsure of where to go and how to decorate at first. Decorations for Halloween are always kind of a last minute thing. People are so into their costumes that decorating is kind of something that comes together quickly.
Someone put some orange and purple Christmas lights up high in the ceiling and then Elf Max and a team of seamstresses very quickly designed and made a woven false ceiling made of orange and black crepe paper. It was the coolest thing. They raised it above the floor about 7 feet, completely making the room feel dark and mysterious, but also magical because of the orange and purple Christmas lights above it. It was an awesome thing to see and it made the party feel even more festive.
After the decorating was done many elves went home to get into their costumes and then came back, each making a grand entrance as they gave made-up names at the door (they wanted to remain secret as long as possible). Many elves, of course, I could recognize. But several had me guessing all night long.
There was music and dancing. There was a limbo contest and bobbing for apples. Elf Orlando got the Onion Apple during the carmel apple eating contest. He nearly choked when he bit into that carmel covered onion!
All night long there was voting on the costumes. And there were seriously some aweome costumes. But Elf Lucy took the big prize by coming as a living Christmas tree. I still don't know how she did it but all her branches were real. And she was TALL. She is, by herself, quite short, but with all the tree branches she topped out at nearly 9 feet for the party. The branches were so thick that no one could see her face or tell who it was. She had everyone guessing all night.
She was also decorated with crazy lights and ornaments that just never fell off. I don't know how she did it but she looked spectacular all night.
She didn't get a lot of votes at first because Elf Joey came as a giant waffle cone filled with real ice cream, which was a very impressive costume. Many elves ate some of the ice cream and then, after a little while he started to melt. His votes stopped coming in and her votes kept growing as the night wore on because her costume kept everyone guessing.
And yes, Elf Lucy won the contest.
Her costume also proved very resilient to the food fight. Really, we all blame Joey for the food fight because by the end of the night his costume was dripping everywhere and was making a big mess. Anyone around him slipped and fell on the floor and some were getting a little irritated with that. Elf Hank, the punster, was the one who threw the first doughnut of the night and it just stuck to Joey like glue because he was so sticky.
But that was all that was needed to get the food fight going. We were all ready for it, we all got involved and we all helped clean up afterwards.
In all, it was a great Halloween at the North Pole. How was yours?

PS – Oh, almost forgot to say. We are back at work at the North Pole today. Click the player below to hear Frank and Crash talk a little bit of the news at the North Pole.
https://santaupdate.com/wp-content/uploads/2018/10/110118.png
200
450
Elf Ernest
https://santaupdate.com/wp-content/uploads/2023/01/newlogo23f.png
Elf Ernest
2018-11-01 00:16:51
2018-10-27 22:21:56
Halloween Party a Huge Success