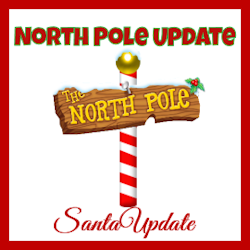 Well, the boys in the Tracking Department wasted no time in getting the new website up for all the new tracker elves needed this year. You can see it at SantaTrackers.net.
You might recall that last summer Santa told us he's going to need 20 million tracker elves this year. The Tracking Department knew that would be a tall order and that the old website just could not handle that kind of demand.
The hard part for those guys is that they really have not had a place to work most the year because their new tracking center here at the North Pole was under construction. Everything in that department, including the new website, got really behind schedule.
But those guys really pushed themselves this last week and they now have a shiny new website to get them through this season.
Now all the needs is elves.
So let's talk about that a little bit. No, let's talk about that a lot.
Are you a tracker elf for Santa? If not, why not?
It is not a hard job.
What you do is track Santa for Santa. Come Christmas Eve, when you listening to Kringle Radio right here on Santa Update, you can send in reports to the North Pole about your local area. Santa loves the information you can provide because nobody knows your neighborhood like you do. From the weather to how much traffic there is Santa just needs to know what you see before he gets there.
So head over there and sign up. It's a lot of fun.