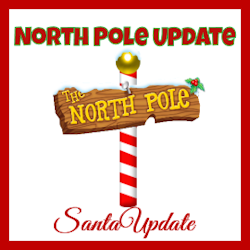 Happy Thanksgiving all!
There was some unfortunate confusion at the elf parade today. The weather is snowy so the parade moved a little slowly. Maybe that contributed to things.
I am not sure entirely what transpired but according to the radio news report below there was a clash between Santa's reindeer and parade organizers who for whatever reason would not allow the reindeer to march in the parade.
Some folks are pretty upset about that. Hopefully they can get things straightened out.
Other than that it is a very festive day here at the North Pole. While many elves are gathering with their families there is an event at the Town Hall featuring a full traditional Thanksgiving feast organized by Santa and Mrs. Claus. I will be attending that event, as I do most years.
Santa loves to not only host this Thanksgiving Day event but he also loves to tell the folks who attend to take a nap after the big meal. Even Santa will kick off his shoes and take a little snooze, right there on the floor on a little mat that he brings. Santa said we should be thankful to have a day of eating well and resting and the best to show our appreciation is to do a lot of both. So that is what he does.
But after the nap is over it's a new time at the North Pole – time to go light up the lights and to see how all the houses are decorated. That's my favorite part. It just gets me in the Christmas Spirit.
I hope wherever you are today that the spirit of both Thanksgiving and Christmas are in your heart. May you have a blessed day with your family.