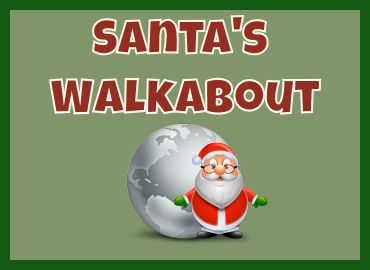 (Special to the North Pole) — Hello to all my friends. Elf Winslow here, writing to you from my office — at the North Pole.
Yes, Santa and I have returned.
Before we ever had a chance to land in Iceland Santa held a number of meetings with his team at the North Pole and with health experts around the world. After careful consideration it was determined that the safest course of action was for us to return home.
We never got a chance to set foot in Iceland. The fishing vessel on which we were traveling delivered its cargo, then set sail once again, heading west.
In a matter of about a week we arrived at a small place in Newfoundland called North River, where we disembarked. We didn't see a soul there.
Santa and I then began a brief overland journey north of that village where an express sleigh came and took us back to the North Pole.
We have been back for about a week. We are both in quarantine for at least another week.
I would have posted a report sooner but I waited to hear how Santa wanted to tell the story.
I'm a little sad, frankly. Santa's walkabout was really just beginning.
One of the things he talked about doing was visiting the jungles of South America. I really wanted to go there. I do not know everything Santa had planned but I looked forward to seeing all these exciting places and especially meeting new people.
There was so much I wanted to learn.
Santa is not sad, however. I don't know how he does it. He is happy and very busy, believe it or not.
He called me yesterday and he said, "Look, Winslow, we have to be thankful, you know".
I didn't understand what Santa was trying to tell me.
But after we talked about it a while I think I get it.
You see, we were not the only people in the world who had our plans changed.
All over the world there have been changes and disruptions. Children in most areas are no longer in school. Many folks cannot go to work and many have lost their jobs. People cannot go to the movies, play sports or even go to the park.
All over the world people are in their houses and unable to do what they planned to do.
Why should we be any different?
Santa shared with me some of the mail he has received. The letters are telling Santa what some are going through.
Sammy H. in Australia talks about being unable to go to their local beach. James R. in the U.K. says there is nothing more to watch on television. Mandy P. planned to get married this month and had to cancel her wedding. Canadian Finn E. says he cannot play hockey.
Everyone is going through something, missing something, or dealing with just being indoors all the time.
Santa says it would have been wrong for us to stay on walkabout when the rest of the world could not do as they wanted. He says it may have been dangerous to stay out. We could have caught the virus and we could have spread it to others without even knowing it.
The safest thing was for us to come home and stay inside — like everyone else.
So, like everyone else, we are changing our plans.
Santa told me he will go embed himself with the Research and Development team to design and build the new sleigh for this year. Santa says it has been many years since he was so hands on with the new sleigh project. He plans to become a test pilot. That is a job he has left to other elves for many years.
He has assigned me to work again with the North Pole Radio news team. I report to work there next week.
In the meantime I've packed my gear — my sleeping bag, my fishing pole, my camera, and my notebooks. The great Santa Walkabout of 2020 is over and I will never forget it.
To think that for a couple of months I had Santa Claus all to myself as we tracked through the frozen and snowy mountains of Canada is something special!
We saw wild animals. We had many campfires together. We fished. We sang songs. And even though we did not get to go as far as we wanted we still covered a lot of ground on an adventure the likes of which I never imagined before.
I'm one lucky elf.
I have liked sending these letters to you, too. I hope my new assignment gives me a chance to do something similar.
Thank you for following along. Merry Christmas!
Your friend,