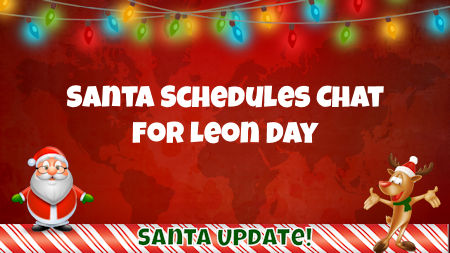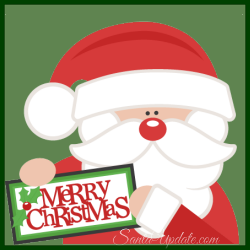 Great news — there is a Santa chat coming! I was just informed that Santa has scheduled a chat for Leon Day, June 25th, at 2pm EST.
It has been a while since Santa has done an event like this. But with the North Pole still under quarantine Santa feels that not only does he have the time but that it is very important that he use this technology to reach out to believers. The chat will be held in Santa's Office at the chat rooms of the Merry Forums of MyMerryChristmas.com. (You will need to be a member of the forums to access the chat. Users under the age of 13 will be required to register and participate in the company of a parent or guardian).
Leon Day is a great time for this chat. Leon is "noel" spelled backwards and Leon Day marks the halfway mark to Christmas. It's a big deal here at the North Pole.
We haven't made the celebration of Leon Day a matter of much note here before. But we like to spend Leon Day rather festively. (You might want to listen to this podcast episode about Elf Holidays for more information). Actually, Leon Day not just one day to us — it is TWO days, the 24th and the 25th of June. Christmas to us is two days too because Christmas Eve is so exciting.
Anyway, we might have some other things going on for Leon Day that we can share with you later. I just wanted to make sure you were aware of the chat with Santa. I know you're going to want to put it on your calendars.
Will we be having chats with elves, too? (I know you're going to ask). The answer is yes…but I don't know if they will be part of Leon Day or part of Christmas in July. I'll let you know.
In any event, these are exciting days already at the North Pole. There are so many things I want to tell you and because Santa wrote the update last month I am just a little behind in sharing the North Pole news.
I can tell you that things are WAY ahead for Christmas this year already. Since nobody is going on vacations we are getting a lot of work done. Santa's workshop is way ahead, Santa's sleigh is ahead of schedule — even the Christmas Eve party is planned!
What does all that mean for you?
Well, if I had to guess, I'd say an earlier bedtime on Christmas Eve could be predicted. And I know the elves in the Tracking Department are already talking about Santa setting an all-time speed record this year with all the preparations that are being made.
This, of course, makes everything so much more exciting for Christmas. We hope you are along for the ride.

https://santaupdate.com/wp-content/uploads/2020/05/053120.jpg
253
450
Elf Ernest
https://santaupdate.com/wp-content/uploads/2023/01/newlogo23f.png
Elf Ernest
2020-05-31 14:30:21
2020-05-31 14:27:08
Santa Chat Scheduled for Leon Day