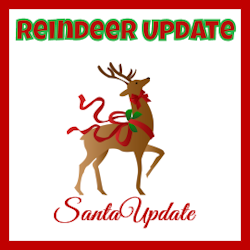 Santa's reindeer are not yet back to the North Pole. People are starting to talk.
Snow is on the ground. We have had a lot of winter weather already. We're used to that but usually people like to look outside and see the reindeer in the snow. The reindeer LOVE the snow. Usually they get back before the snow flies at the North Pole and it is funny to see them out there in the early fall with no snow on the ground.
But it is more weird to see snow out there but no reindeer.
We are getting a lot of questions about this. The other day, on Elf Frank Myrrh's radio show, callers at the North Pole were suggesting that something must be wrong.
There are all kinds of rumors going around now. Some think the reindeer have the coronavirus. Some say that because the virus is so bad in some places that governments won't let them out of the countries where they live so they can come back to the North Pole. Some even think they don't want to come back.
Well, relax. None of those things are true.
Santa keeps saying the reindeer are fine. Elf Victor told me that Santa has never instructed the reindeer to come to the North Pole, they just come. Every year, they show up and get to work.
And really, except for those special reindeer who work on the test flights of Santa's sleigh, why do the other reindeer need to be back? What could they possibly do here that they cannot do back at home?
Here is what I think the problem is: it's this crazy year of 2020. Like so many other people in the world it has been a stressful year for elves. Most have been here at the North Pole all year, unable to travel. Like everyone else, we have been isolated and kept from doing so many things we are used to doing.
Having the reindeer back at the North Pole would help the elves here feel like things are normal again.
You can understand that, right?
Well, I personally expect the reindeer to show up any day now. I'm not worried that they are not back yet.
And you should not worry either.

https://santaupdate.com/wp-content/uploads/2020/09/100320.jpg
320
845
Elf Ernest
https://santaupdate.com/wp-content/uploads/2023/01/newlogo23f.png
Elf Ernest
2020-10-03 00:04:44
2020-09-20 11:55:02
Reindeer Not Yet Back to the North Pole