The countdown to Santa's launch now shows that 350 days remain until that big event.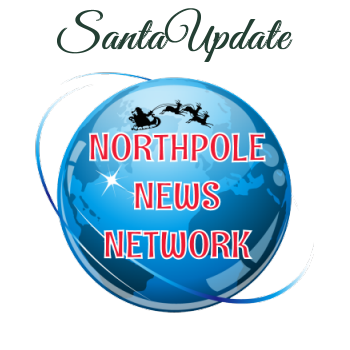 You would not know that is looking at the North Pole right now.
Santa's workshop is dark and locked up. There is minimal staffing at North Pole Flight Command. The reindeer are lounging at Santa's Stables and elves are busy with their own families in their own homes right now.
As is tradition, Santa declared a "mandatory" work break, which began on his return to the North Pole on Christmas morning.
Since then the North Pole has celebrated New Year's, gathering only for a brief ceremony at Flight Command to reset the countdown clock.
Milestones in the countdown come through out the year. The 350-day marker today may, in fact, be the quietest.
As of this date no work on Santa's new campaign has been done. No lists have been made. No goals have been set. There has been no talk of a new sleigh design, toy production quotas, tracking Santa or stuffing stockings.
That work begins next Monday, January 9th, when Santa and the elves all return to work.
Since Christmas life at the North Pole has been on holiday.
The North Pole celebrates Christmas late – only after the entire world has had their turn.
When Santa returns there are parties, concerts, sledding events and other seasonal celebrations that make up the elf Christmas. Mr. and Mrs. Claus make the rounds, enjoying the company of those who help make the world a merry place at Christmas.
During this period of time Santa refuses to talk to the media and even this little bit of news has to have his approval before we publish it. Santa makes sure we ALL get some down time right after Christmas before we begin again.
So, while this officially marks our first published news of the New Year we still have a day or two of rest and relaxation before we begin again next week.
What can you expect in the weeks and months ahead?
More news and expanded coverage of the North Pole and its efforts. Every year is a new story. Every week is another update in the countdown to Santa's launch.
There will be chats, podcasts and interviews with important elves. We will, once again, tell the story of Santa and the North Pole.

https://santaupdate.com/wp-content/uploads/2023/01/10723.png
321
845
Elf Harold Star
https://santaupdate.com/wp-content/uploads/2023/01/newlogo23f.png
Elf Harold Star
2023-01-07 10:45:23
2023-01-07 10:37:55
350 Days Until Santa's Launch