Hi everyone – there are just 22 weeks now until Christmas.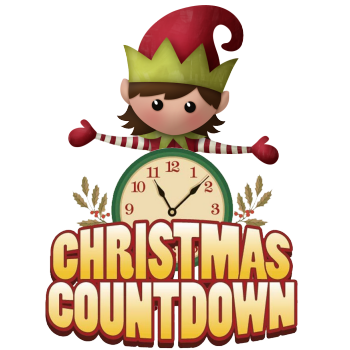 I'm sorry I missed last week's countdown post. I didn't forget about it. I suffered a catastrophic laptop failure. I went to turn my computer on, I heard a bleep and the got the blue screen of death (that's what they call it). And because it was Sunday, I couldn't get to another computer. Sorry about that.
It's been a busy week of Christmas in July here at the North Pole.
We had the eggnog chugging contest, which was won again by Elf Bruno. That guy has won it like 15 years in a row. Of course, it helps that he's nearly 7 feet tall and weighs better than 400 pounds. Oh, and yeah, he loves eggnog. Nobody can put it away like he does.
We also had the massive Christmas-in-July snowball fight.
It's true that it is warmer at the North Pole but that doesn't mean we don't have snow in July. We do. The sun is up for a long time, which gives us more time outside, and this event is always popular because snowmen and snowballs are not as common in July.
It was a great event and everyone got really wet. But I didn't participate.
You see, when it comes to snowball fights, I don't fight fair.
I grew up in Colorado, in Sector 5. We get snow there and I learned from an early age how to have a snowball fight. The secret is to be faster than everyone else. I can do that because I'm small, lower to the ground, and harder to hit.
But I didn't engage this year because Mrs. Claus asked me to "rise above the competition" in this year's Christmas in July celebrations. That's her way of saying she wants me to be a more serious elf.
It's not permanent. After all, my job with Mrs. Claus is just a temporary assignment. But while I am in this job I need to be dignified and proper. I even have to be an example, so that means no snowball fights for me.
I did, however, get to participate in the Christmas Light relays. This is a race where you run while putting bulbs on a string of lights. It's a really hard and sometimes very funny kind of race.
There are three people to a string of lights, one on each end and one right in the middle. You begin by running together to stretch out your string. The rules say the string has to be strung out the whole time.
That means the middle person has to manage getting the bulbs in the sockets – while running. None of this is easy for anyone and, well, let's just say that this isn't the quickest race in the world.
There are so many ways to lose this race. You can lose by letting your string hit the ground (that disqualifies you). You can lose by not getting all the bulbs in the socket. You can lose by not getting your strung plugged in at the end. And you can lose by not having all of your lights working.
This race, more than any other during Christmas in July, frustrates the elves the most. There is almost always a surprise winner because of the many ways you can lose. The first and the fastest isn't always the winner. In fact, they seldom are.
Who thought up this silly, goofy and frustrating relay? Well, it was Santa, of course.
And he wasn't even here to see it this year.
Too bad for him. I wasn't on the winning team but I sure had a good time.
Santa will still be part of Christmas in July. He's coming to North Pole Chat next weekend. We hope you can join us!

https://santaupdate.com/wp-content/uploads/2023/07/072323.png
321
845
Elf Trixie
https://santaupdate.com/wp-content/uploads/2023/01/newlogo23f.png
Elf Trixie
2023-07-23 00:45:46
2023-07-22 22:48:11
22 Weeks Until Christmas