The annual reindeer games kick off with opening ceremonies tomorrow and a full day of competition is scheduled.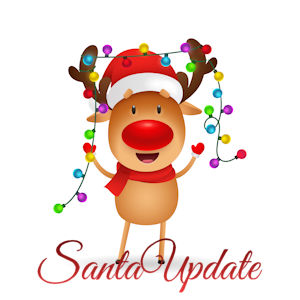 Experts in the Reindeer Operations Department have posted prognostications for those who follow the Reindeer Games. Donner and Blitzen are both heavy favorites to win the games, but this is not new information. They are always favored to win because they are the "best of the best".
But most watch the two-year old class of reindeer – newcomers who are coming of age and in prime athletic condition. In years past, some two-year olds have risen to legendary status by surprising wins in the reindeer games. According to Elf Herbert Walcott, a trainer at Santa's Stables, these are the reindeer to keep an eye on in the games this year:
Reynaldo – hailing from the high plains of Bolivia in South America Reynaldo has a slight build and appears smaller compared to most in the games this year. But his speed, agility and athleticism is considered by many to be top of class. Some are saying Reynaldo will break records with his speed.
Petunia Patty – Patty is a quiet reindeer who never gives herself credit for her abilities. She does not like the limelight. But she also does not like to lose. Of all the reindeer in competition, Santa himself says Patty has the biggest heart and this gives her a real edge. Petunia is a nickname many call her because she has a fair coat of many shades of tan and white. She has a very striking look to her.
Farris – He comes from a region in Norway known for their many reindeer species. Farris learned to run early because he loved the attention of older reindeer who ran to get away from him and other youngsters. They couldn't shake him – Farris has always kept up with the older, bigger and stronger reindeer. His stamina is growing to legendary status. He is expected to do well in the marathons and extended flight competition. He's an outstanding flyer.
Invincible Hercules – Hercules comes from the Canadian Rockies, somewhere in Alberta. He has incredible bloodlines and is believed to be a descendant of Gnasher, a legendary reindeer who served Santa more than 500 years ago. They call him "Invincible" because he performs well in terrible weather, which could be a factor given the snowy forecast at the North Pole the next week or so. Hercules has great pulling power and is expected to do well in all pulling events.
Titus – This is a very regal looking reindeer with impeccable manners and presentation. Just standing next to him you feel like you're in the presence of a king. Titus is very disciplined. He has advanced in his skills faster than any other reindeer in his class. Trainers say Titus learns twice as fast as anyone. His conditioning started slow because he his naturally smaller in stature but due to regimented diet, aggressive training and a spirited competitive nature Titus is the one reindeer experts are saying could surprise the crowds. He desperately wants to be a lead reindeer for Santa someday.
In other news, there appear to be some health concerns for Dancer and Vixen. Their status for the games are not yet confirmed as of this writing.
The Reindeer Games will be a big story for the next few days. Please check back for updates.

https://santaupdate.com/wp-content/uploads/2023/11/111723.png
321
845
Elf Harold Star
https://santaupdate.com/wp-content/uploads/2023/01/newlogo23f.png
Elf Harold Star
2023-11-17 07:01:56
2023-11-17 07:01:56
Reindeer to Watch in the Games