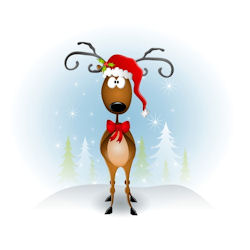 When I walked out of my house this morning I was greeted by thousands of reindeer. That can only mean one thing. The annual reindeer games are getting ready to start.
A lot of people think Santa only has nin reindeer. The truth is that Santa has thousands of reindeer. Sure the nine reindeer on Santa's main team are the most popular but all of the reindeer perform vital tasks on Christmas Eve — and it takes thousands of reindeer for Santa to get Operation Merry Christmas done each year.
"The reindeer perform a wide array of tasks on Christmas Eve." Elf Victor said. "There is a backup team to Santa's main team. There is just no way that one team of reindeer could go for that long without a break. There are reindeer that take some of Elf Billy's staff out ahead of Santa to check the weather and report on any problems they may encounter. There are reindeer and elves that take resupply sleighs to Santa. There is just no way that Santa could fly a sleigh big enough to hold all of the gifts at once. There is also a team of reindeer that can fly super-fast for a short amount of time on standby Christmas Eve. They are there in case Santa gets in trouble and help needs to get there fast. There are reindeer who help shuttle elves all around the world during the week of Christmas, too. Santa has spotters in every country in the world, practically every city, town and village there are elves stationed there the week of Christmas — besides those that work at the North Pole. It is a massive undertaking."
This is a stressful time for Elf Victor and his staff. They have to care for all of these reindeer and keep them healthy while also evaluating them to determine which job they are best suited for. The reindeer games are a critical part of this plan. It gives the reindeer the exercise they need while helping Elf Victor evaluate where each reindeer's talent is. The games give him the info he needs to assign each reindeer to where they'll do the most good on Christmas Eve. Look for more updates on the reindeer games soon.
Elf Victor said that another aspect of the reindeer showing up to the games are all the Mommy reindeer about to have babies. He says Santa usually has a list made up of baby reindeer names but that he hasn't gotten around to giving that list to Elf Victor yet. Elf Victor is a little worried because he suspects the babies will start arriving soon and Santa will have a big job on his hands of getting all the babies named if he doesn't have that list ready.
In other news Santa is thrilled with all of the letters he has been getting from kids telling him what they are thankful for. "I received a letter from Maggie in Charlotte, North Carolina" Santa said. "She wanted to tell me that she was thankful for her little brother. "He always makes me laugh" she said. "Even when I'm not feeling good or had a bad day at school he can bring a smile to my face." That is just one example of the thousands that I have received."
— Elf Ernest
https://santaupdate.com/wp-content/uploads/2023/01/newlogo23f.png
0
0
Elf Ernest
https://santaupdate.com/wp-content/uploads/2023/01/newlogo23f.png
Elf Ernest
2011-11-28 06:00:13
2011-11-27 23:32:13
Reindeer Begin Gathering for the Reindeer Games