Spotters in Africa have called in to the North Pole surprised to see Santa at this stage in his flight. Normally Santa heads for the Pacific and then turns south but in order to test the speed capabilities of his new sleigh he turned East in the past hour and crossed North America, the Atlantic and is now over the Indian ocean moving in a direction completely opposite of his usual course.
"The guys in the tracking department are going nuts," Elf Billy said. "Some are using upside-down maps now. They figured at this point that Santa would be perhaps in the South Pacific heading north or west and instead he's over the Indian Ocean heading east. We're all messed up and I don't have a clue where he is heading."
Meanwhile, at the North Pole, Santa's workshop still has the lights on and elves remain hard at work at this hour. I don't think I've ever seen them this behind before. Not to worry, though. Elf Bernard says that at this point Santa has enough toys to at least last through Europe.
— Elf Ernest
Bedtime Warning: Brisbane, Australia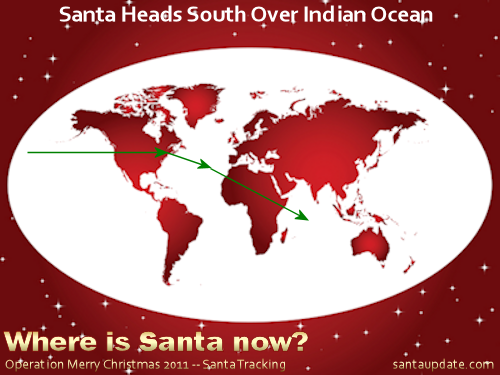 https://santaupdate.com/wp-content/uploads/2023/01/newlogo23f.png
0
0
Elf Ernest
https://santaupdate.com/wp-content/uploads/2023/01/newlogo23f.png
Elf Ernest
2011-12-24 04:15:50
2011-12-20 23:33:15
Santa Over the Indian Ocean as He Heads South