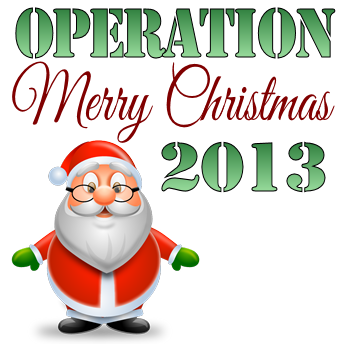 The day after Thanksgiving is always a date we keep on the calendar here at the North Pole — it marks the beginning of Operation Merry Christmas.
Operation Merry Christmas is what we call the effort of Santa delivering around the world. A lot of detail and planning goes in to getting Santa around the world and we work on it all year — but Operation Merry Christmas is where it comes all together. Every department has big work going on right now.
In the Tracking Department there is tons of news. You already know about the efforts to publicize what Tracking does. They have set up TrackingSanta.net, JingleKringle.com, and will be offering Santa tracking on the radio at KringleRadio.com this year.
But all this is on top of their regular work and there is plenty of that. They are working on weather forecasts and getting spotter elves from all over the world to check-in and begin planning Santa's flight plan.
They are working closely with Elf Quinton and his team at Research and Development who are trying to get Santa's sleigh ready for the big night. As you already know, that's not an easy job.
Elf Victor in Reindeer Operations has the job of getting the reindeer ready. There are thousands of reindeer, both old and young, here at the North Pole, getting ready to play in the Reindeer Games and to receive an assignment to work for Santa on Christmas Eve. It is what they live for.
Over in Santa's workshop elves are working long hours and it works around the clock six days a week. The workshop (and every department) only closes on Sundays at the North Pole. Elf Bernard and his team say things are going well there.
Ely Wally and the Wrapping Department have a very busy job and they are busy wrapping and organizing already. Their job goes down to the last minute every year.
For all of us here at the North Pole, it is a festive as well as busy time. Yesterday's celebration of Thanksgiving was a ton of fun and it culminated in the softly falling snow late in the evening when Santa coordinated the annual switch on of the Christmas lights. He and Mrs. Claus walked from home to home, looking at the lights and complimenting the efforts of all they encountered. Santa says he cannot remember a time when the North Pole was better decorated for Christmas.
The annual lighting contest winner was, hands down, Elf Seymour, who decorated his small home with lights, candles, and strobes timed to catch the snowflakes in flight to highlight them as they fall. Unlike many elves the music at Seymour's house is soft, light and whimsical, not loud and blaring. He has a waterfall set up on the back corner of his lot with lights underneath the water that change from red to green to blue to white in the most beautiful way. On his lawn are glittering reindeer figures all decked with jingling bells that sparkle as waves of spotlights move in random patterns from hidden spots in his trees. The trees are all ablaze with soft blue lights. The combined effect of his lights is mesmerizing and people come and stare at them for the longest time, like a work of art.
In all, it was fun and festive to be out late to look at lights and be together. But after it was over it was time to get down to business and we all went to work with energy and anticipation. There is NOT much time left until Christmas and there is a great deal of work to be done.
From the sleigh bells to the sugar cookies, there are a million details to coordinate. We hope you stay with us for the ride!
https://santaupdate.com/wp-content/uploads/2023/01/newlogo23f.png
0
0
Elf Ernest
https://santaupdate.com/wp-content/uploads/2023/01/newlogo23f.png
Elf Ernest
2013-11-29 01:00:51
2013-11-28 23:32:29
Operation Merry Christmas 2013 Launches