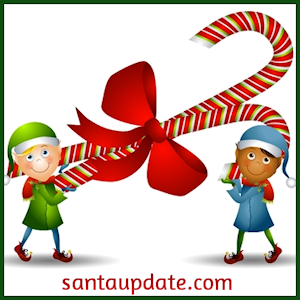 Santa's launch is five hours away and folks are starting to get very excited here at the North Pole. It's kind of like the Super Bowl for some people in America — families gather, there is food, a festive atmosphere and whether they see it live out in the barnyard or watch it on television indoors it is a highlight of the year for many elves here at the North Pole to watch Santa take off.
Elves who are not working in the Workshop, in the Wrapping Department, in the Sleigh Barn, with the reindeer, in the Tracking Center or even here at the Newsroom are gathering with their families. The weather outside has taken a snowy turn and the winds are tremendous. That isn't stopping folks from gathering with mugs of hot cocoa, bundled up from the cold. Seeing Santa take off is that big of a deal.
Mrs. Claus will likely not venture out into the cold. She will awaken Santa from a little nap in a few hours and give him a hot meal. She will fuss over his suit and make sure he is ready in every way. But she will be concentrating, as she always does, on serving those who will be at her home for the North Pole Christmas Eve Party, which begins when Santa takes off. There are lots of games, plenty of food, good music and great cheer experienced by the North Pole family as Santa makes his way around the world. They track Santa there as close as anyone.
Where it is Christmas Eve Day: Singapore, Tokyo, India, Sri Lanka, Pakistan, Iran
Where it is Christmas Eve Evening: Apia, Christmas Island, New Zealand, Fiji
Where it is Christmas Morning: Nowhere

Santa Tracking is now being broadcast live from the North Pole at



https://santaupdate.com/wp-content/uploads/2023/01/newlogo23f.png
0
0
Elf Ernest
https://santaupdate.com/wp-content/uploads/2023/01/newlogo23f.png
Elf Ernest
2013-12-23 20:00:54
2013-11-27 08:45:27
Elf Families Prepare North Pole Christmas Eve Party