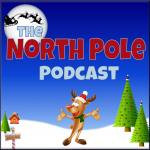 Happy Thanksgiving!
Our day started with the Elf Parade, a great North Pole Thanksgiving tradition. Everyone showed up for it, most elves driving their decorated tricycles. Even big elves ride their trikes in the Thanksgiving Day Parade at the North Pole. To learn more about that listen to the report below from Elf Crash at the Elf Parade.
Thanksgiving is a day not only of feasting but also one of decorating, playing games and just being together. We love it!
After we eat we'll meet together in the evening for the lighting ceremony. It is a big moment not only for Thanksgiving but also for Christmas. Then we'll start the walkabout and Santa and Mrs. Claus will judge the lighting contest. Usually an award is given out to the best house.
I've never won that award – but I will try again this year!
Many elves stay up late on Thanksgiving night but a very small, dedicated group of elves always goes to bed right after the festivities with the lights are over. They take a little nap and then wake up and report for work at the workshop right at midnight. They kick off what we call "Operation Merry Christmas". I'll tell you about that tomorrow.
https://santaupdate.com/wp-content/uploads/2023/01/newlogo23f.png
0
0
Elf Ernest
https://santaupdate.com/wp-content/uploads/2023/01/newlogo23f.png
Elf Ernest
2015-11-26 02:00:14
2015-11-22 18:36:39
Happy Thanksgiving from the North Pole