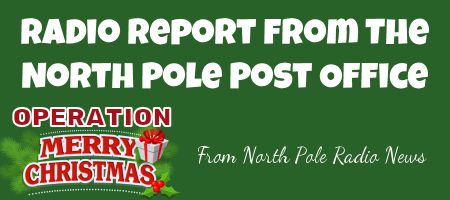 We have lots of breaking news all of a sudden. It appears this is going to be one very busy weekend.
First of all, as you read earlier, the North Pole Post Office has activated Stocking Mail. Almost immediately after that announcement we saw an impressive increase of mail to the North Pole.
But the guys on North Pole Radio News floated a new theory that is quite interesting to consider. Take a listen:
The thought that there are plenty of elves available right now is a good one. We are all working. But there is a great deal of confidence in the air right now at the North Pole.
We're ready for Santa to fly and we know we are ready.
It's not just the idea that Santa has enough elves right now to fire up Stocking Mail a little early.
I honestly cannot remember a time when Christmas was as organized as I'm seeing things this year. There is no backup at the North Pole Post Office. Things are flowing great. The Wrapping Department also has no back log. Over at Santa's Workshop there is talk they will be done early.
Even the sleigh bells seem to be ready.
I think if Santa wanted to take off tomorrow he could.
Of course, he won't.
Oh, that reminds me. Word went out to Tracker Elves via SantaTrackers.net that world-wide check-in begins soon. If that is not a sign that Santa's launch is close, I don't know what is!

https://santaupdate.com/wp-content/uploads/2018/12/122118b.png
200
450
Elf Ernest
https://santaupdate.com/wp-content/uploads/2023/01/newlogo23f.png
Elf Ernest
2018-12-21 09:26:31
2018-12-20 11:36:35
Confidence High as Christmas Nears