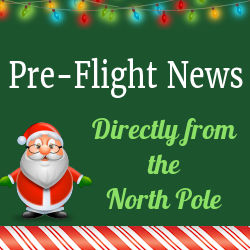 Greetings, all!
The latest test flight of Santa's sleigh has returned to the North Pole. Sleigh engineers will be working now to make adjustments before sending the sleigh out on it's final test flight. That last test flight will happen sometime tomorrow.
More details on this can be found at North Pole Flight Command.
We do not yet know the hour scheduled for the launch of the final test flight. I suppose the weather at the North Pole will influence that. The annual final test flight is a very closely watched event around the world and it is something of a tradition before Santa launches.
We know that Tracker Elves will be able to watch the progress of that flight as it happens via SantaTrackers.net. We have not heard yet if North Pole Flight Command will release the map to the other websites.
We will keep you updated on those details as well.
Stay tuned.