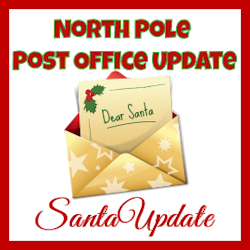 Hi all,
It's a beautiful Sunday here at the North Pole. The skies are heavy with clouds and snow is starting to fall. We're in for nastier weather, as you may have read over at North Pole Flight Command.
I thought it would be a good idea to catch up on happenings at the North Pole this morning. Being a Sunday most departments are closed today. But being just a few days before Christmas we have some departments who have to work today — mainly, the Tracking Department and the North Pole Post Office.
So I stopped in to check in with Elf Hugo at the Post Office.
Those elves are really busy over there. Elf Hugo says things are in control and that the mail is flowing but he also acknowledged that his busiest time of the season is at the door.
Elf Hugo is encouraging as many Santa fans as possible out there to just send Santa a voicemail at this time. His phone number — which is toll free, by the way — is 866-847-2682 (or, 866-84-SANTA).
Hugo says that the voicemail setup for Santa is really slick. Using a computer at the North Pole Post Office each call for Santa that comes in is queque like a tape recorder. Santa can flipped it on from his phone or when he is in his sleigh. Of course, Santa right now is still visiting with children around the world so he only gets to his voicemail when he is not meeting with people in person.
But Hugo suggests that right now this is the best way to get an urgent message to him.
The Post Office of course gets all other messages in front of him but Santa can only see them when he's not doing everything else he is doing. Later, when he gets on the sleigh for his journey around the world, he will have elves with him to help him see all the messages he needs to see.
Of course, handling all of Santa's mail has always been a challenge. They count every email, every fax, text and voicemail — they know exactly how many of these kinds of messages Santa has received on each day leading up to his flight. So both Hugo and Santa know what they are in for.
So far, the messages coming in are in greater number than for this same time period a year ago. Hugo expects that to continue.