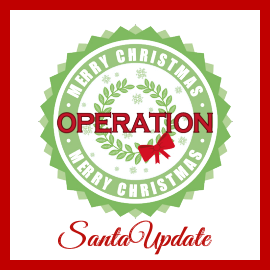 Operation Merry Christmas begins in 9 weeks!
I am hoping to get into Santa's workshop to see how things are going there. But they won't let me in! I'm just a junior reporter, I guess, and it takes someone with special clearance to get in there. I will have to talk to Elf Ernest about that.
Oh, by the way, thanks for all the email and the comments about my first chat with Mrs. Claus this week. Thanks to that first little chat Mrs. Claus now has thousands of more questions to answer.
I was a little nervous with that assignment. Talking with Mrs. Claus is a big honor and reporting on it is a big responsibility. Hey, wait a minute — why do they let me talk to Mrs. Claus but they won't let me in the workshop? This is an outrage! I don't need to talk to Ernest. I'm going to go pound on the door to that workshop….
Anyway. Let's talk Halloween for a second.
That's a big deal at the North Pole. And it comes before Operation Merry Christmas. So that is really more on the minds of elves these days here at the North Pole.
Halloween is a time of secrets. Elves, as you know, have to be really good at keeping secrets. We work for Santa, it just comes with the job.
But elves have a hard time keeping secrets from other elves. And Halloween is something everyone here tries to keep secret because there is this big costume contest. Elves go silly over it.
I'm just a simple girl and would never dream of winning that contest because all those workshop elves and those techy elves in Sleigh Design and Research and Development and other important places always make these wacko over-the-top blinky smoky flashy kind of costumes that I would never dream of because I'm always thinking of my problems with run-on sentences and stuff…
Anyway.
There is a lot of sneaky Halloween stuff happening already.
But I need ideas! I don't know WHAT to do for a Halloween costume. Can you help me?
To send me a note — at anytime — just use the "ask an elf" form. Click here. I'd love to get suggestions from you for my Halloween costume.
Until then, happiness to you and your family! We're another week closer to Operation Merry Christmas!

https://santaupdate.com/wp-content/uploads/2020/09/092520.jpg
321
845
Elf Trixie
https://santaupdate.com/wp-content/uploads/2023/01/newlogo23f.png
Elf Trixie
2020-09-25 00:04:29
2020-09-20 11:25:14
Operation Merry Christmas Begins in 9 Weeks