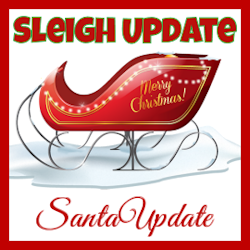 A new problem has been found with Santa's sleigh. According to the radio news report below Elf Crash Murphy learned that the problem has cropped up during test flights of the sleigh this past week over Europe.
According the Elf Quinton, head of Research and Development, the problem is that the sleigh becomes very shaky when it flies while full loaded at high speeds and at high altitudes. "This could effect the earliest part of Santa's flight," Quinton explained. "And if he has problems early in the flight that could slow him down for later in the flight. So we need to solve this now."
Engineers have been working on the problem all week and have already rushed new sleighs with design changes to Europe. The plan will see the flights shift over the Atlantic ocean and towards South America in the days ahead.
Flights will now start running around the clock. Flight Command director Buck Sanchez says that it will be possible to see Santa's sleigh in flight day or night over the next 10 to 12 days. He did not say where the sleigh will be headed after it goes to South America.
This is getting to be an interesting time for Santa's sleigh. It will need to return home to the North Pole at some point so they can make final changes and then give the sleigh a new paint job. Santa always likes to have a bright red sleigh to fly on his annual trek so that means the sleigh needs to come home and get the paint job and then "cure" for a day or two before it goes out for one last test flight before Santa gets into it for real.
Rumors have been flying that Santa will go to South America himself to test fly the sleigh. But I have actually heard nothing official about that. If that changes, I'll let you know.

https://santaupdate.com/wp-content/uploads/2020/12/121020.jpg
321
845
Elf Ernest
https://santaupdate.com/wp-content/uploads/2023/01/newlogo23f.png
Elf Ernest
2020-12-11 00:05:58
2020-12-10 22:19:00
New Problem Found with Santa's Sleigh