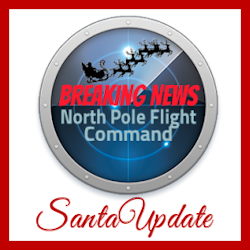 North Pole Flight Command is now operating 24-hours per day. In addition, they have now switched on live tracking telemetry from the test flight of Santa's sleigh and they are actively testing those systems.
"This is totally normal at this point in the season," explained Elf Buck Sanchez, director of flight operations in North Pole Flight Command. "The test flight was positioned specifically in South America at this time to begin these tests. A southern hemisphere trajectory really stretches the limits of our range. If it is good there, it is good anywhere in the world. So far, things are going very well."
His comments seemed to mirror the comments of every sub-department I talked to at North Pole Flight Command.
North Pole Flight Command is very confident all will be ready next week when Santa takes off.
In fact, with just days remaining until Santa leaves the North Pole I can tell you that things are going exceptionally well.
Santa's workshop reports that they are ahead of scheduled by a whopping 23% – good enough to allow a few elves to go home early to work on getting their own Christmas presents wrapped. That is almost unheard of at this time of the year.
The Wrapping Department has nothing but happy news as well. Elf Wally says that the stuff coming from Santa's Workshop is moving along at a good steady pace. "They are in such good shape over there that it affects us in a good way," Wally said. "We're keeping up. We're busy but nobody is stressed. Steady as she goes, is what I say".
The radio news team spent time at the North Pole Post Office today speaking with Elf Hugo. They too claim to be very busy but very much under control. Considering all the changes made at the post office this year that's great news indeed. You can listen to today's radio report in the player below.
As a reminder, we have Mrs. Claus in chat later today and Santa will chat tomorrow night. We will try to review the chat calendar and get some more elves in there for chat later this week.

https://santaupdate.com/wp-content/uploads/2020/12/121320a.jpg
320
845
Elf Ernest
https://santaupdate.com/wp-content/uploads/2023/01/newlogo23f.png
Elf Ernest
2020-12-14 14:37:56
2020-12-14 14:37:56
Flight Command Goes to 24 Hour Operation