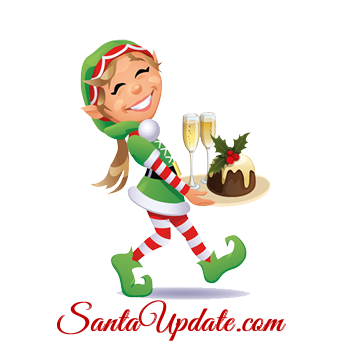 An epic Christmas party is being planned for the North Pole. Mrs. Claus held meetings last yesterday after her chat in the North Pole Chat Room. The meeting had been scheduled for months.
It is the custom at the North Pole to hold a Christmas party at the Claus residence after all work shifts are complete on Christmas Eve. This usually happens after Santa launches. As each department ends work they will find their way to the Claus residence.
This routine makes for a very long Christmas party.
Some elves can arrive early because their work is finished early. For example, the first people at the party are usually the elves from the test flight crews. Their work is over as soon as Santa is in the air. With nowhere to go and nothing to do they head to the North Pole Christmas Party. As other teams of elves complete their work they head over there too.
Santa and Mrs. Claus have in their home was is called a "great room". This is a large cathedral ceiling room that is perfect for large gatherings. There is a very large screen monitor in the room and it shows images from the Sleigh Cam — so they can watch Santa at work. In the great room is also plenty of things to give entertainment — game tables, pinball machines, ping pong tables, a pool table, lots of couches and comfy chairs.
Just off the room is Mrs. Claus' kitchen, which is a world-class kitchen, let me tell you. From there are served foods of all kinds — hot foods, sweet treats, yummy pastries, and plenty of beverages.
It is a party in every sense of the word. There are, of course, Christmas decorations — several trees and lots of lights. There are also along one back wall a series of white boards set up for the "betting center". Using sugar cookies as currency, each elf bets on several things related to Santa's delivery — where he will deliver first, certain times he will arrive in certain countries, things he might or might not say, and even weather predictions in certain parts of the world. Of course, it's all in good fun.
There is even a water fountain that doesn't serve water — it provides fresh eggnog instead.
Organizing all this takes a lot of time and effort. Mrs. Claus is traditionally the chairperson of the event – it is her house, after all — but there are many elves who take charge of certain parts of the event.
The big meeting was held at the Claus residence where Mrs. Claus had a walk-thru and gave instructions. This was the last meeting before the big day.
Chances are, during our news coverage of Tracking Santa Around the World, you might hear of or read about references to this big party. It is a big tradition for us and one we hope you come to understand and enjoy.
As we learn more details of this year's party we will keep you informed.

https://santaupdate.com/wp-content/uploads/2020/12/121420.jpg
321
845
Elf Ernest
https://santaupdate.com/wp-content/uploads/2023/01/newlogo23f.png
Elf Ernest
2020-12-15 00:32:04
2020-12-15 00:32:04
Epic Christmas Party Planned at the North Pole