The reindeer games at the North Pole are set to begin after Opening Ceremonies later today.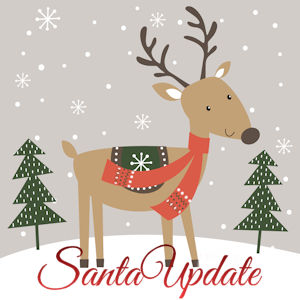 The reindeer games are an annual event at the North Pole that draws huge crowds of elves. The elves love the competition.
But the purpose of the reindeer games is actually quite serious: Santa places the reindeer in jobs suited for them based upon performance in the games. Santa, of course, has nine reindeer he uses on his sleigh but there are actually thousands of other jobs done by reindeer every Christmas.
There are several reindeer among the class of two year old reindeer that some are watching in these games. They are:
Snickers – A girl, Snickers is so named because of her cheerful nature. She has outstanding jumping ability.
Gator – A boy, Gator is a HUGE reindeer with muscles on muscles. He can pull a lot of weight.
Bubbles – A boy, Bubbles has a gentle personality but a highly competitive spirit. He's small. But he has surprised in many categories in the preliminaries.
Trixie – A girl, Trixie is actually owned by Elf Trixie, a news elf at the North Pole. Trixie is the fastest reindeer in the class.
Vinny – A boy, Vinny is quiet and sneaky fast. He has surprised many.
Helga – A girl, Helga is exceptionally strong and has incredible endurance. She is expected to do well in the marathons.
The Opening Ceremonies is a parade of reindeer participating in the games. Each carries a placard that shows where in the world they are from. This year we are proud to have reindeer from every continent competing in the games.
Be sure to listen to the North Pole Radio News report from today, posted below.
We will keep you posted of the great events with the reindeer this week.

https://santaupdate.com/wp-content/uploads/2021/11/112921.jpg
320
845
Elf Ernest
https://santaupdate.com/wp-content/uploads/2023/01/newlogo23f.png
Elf Ernest
2021-11-29 00:01:25
2021-11-28 15:33:58
Reindeer Games to Begin Soon