Hi ho! Just one week to go!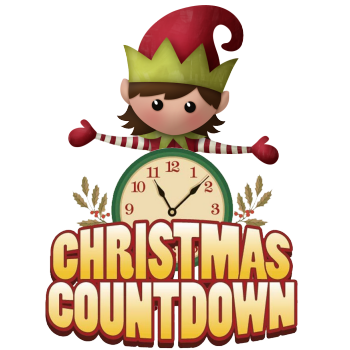 So, I've been counting down in this capacity for over a year now. When I started I was just an intern. Now I'm a real elf with a real elf job even though I'm still in school.
But this could be my last countdown update on SantaUpdate.com. I've been given a new assignment and I cannot tell you about it yet. I just know that it appears my work here may be finished.
It makes me a little sad because writing for the countdown is not exactly like news writing. Elf Ernest takes care of most of the news writing here on SantaUpdate. My job here was to mark the weeks to Christmas.
I have loved doing it. I'm going to miss it.
It was not until this week that I realized the reason I love doing it. In the countdown capacity I could just be myself. I can tell you not only how long we have until Christmas but I can also talk about stuff that happens to me and what I think.
I never thought I would enjoy that. I also never thought it would result in so many nice messages and comments being sent my way. You have all been so very kind to me.
I wish I could tell you what their plans are but I honestly do not know. I think the elves in charge may be concerned that this job here might be a bit much with all the new stuff they are giving me to do.
So I do not know what the future will be for me on SantaUpdate.com or what the future for the weekly countdown will be.
What are your thoughts about this?
Me, if I'm being honest and I am, I want to keep doing it. It's fun counting down to Christmas. I never thought it would be but this little gig has taken me to a lot of places a the North Pole I may not have been able to otherwise go.
For example, this week I spent time at North Pole Radio News. Those guys are super busy getting ready for the Tracking Santa Radio Show that launches once Christmas Eve dawns in the far places of the world.
I had no idea how many people it takes to make that happen. I also had no idea what I big deal it is. That radio show last year was heard in 133 countries. Million and bazillions of people listen to it!
The meetings this week were for the reporters. There are hundreds of them and they get sent out to all kinds of places. I think I counted more than 90 alone that just were going to go to Australia.
Then there's the new anchors – Frank and Holly and Red and Roz and Merry Ann and Al and Crash. What incredible news people they are. Some of them are pretty funny, too.
Elf Crash has become a very good friend, by the way. He just loves helping elves of all types. Great guy. Super funny. Huge believer in Santa. There is just something about that guy that makes me want to be a better elf.
Anyway, these news people were all over the studios of North Pole Radio News. They were in training. They were practicing. They were pulling pranks on each other.
They get together every year in the week or so before the big broadcast. Some of them will be leaving by the end of this week for their assigned places out there.
They really sacrifice because they are away from their families at Christmas. They never complain. In fact, they love doing what they do.
I'm going to be listening to them as I track Santa. It's the best way to follow Santa around the world.
Merry Christmas everyone!

https://santaupdate.com/wp-content/uploads/2021/12/121621.jpg
321
845
Elf Trixie
https://santaupdate.com/wp-content/uploads/2023/01/newlogo23f.png
Elf Trixie
2021-12-16 04:00:49
2021-12-13 18:20:52
1 Week Until Christmas