North Pole Security has a big job to do every Christmas and they are hard at work with it right now.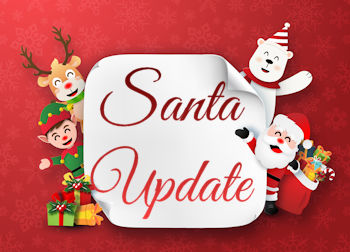 I talked with Elf Agent X, head of North Pole Security, after our little discussion the other day about the Cookie Desk in North Pole Flight Command. It made me wonder what those guys are up to.
"The safety of Santa and the reindeer are our #1 priority," Elf Agent X said. "Our job is to learn about those forces out that that want to keep Santa from doing his job and to do something about that."
Elf Agent X was not very forthcoming about what that exactly means. Every year on the Tracking Santa Radio Show the news elves interview Elf Agent X about various schemes they uncover as Santa flies.
Some try to kidnap Santa. Some want Santa to stay away from their area. Some just want him at the their Christmas parties.
Something always happens every Christmas Eve and the North Pole Security Department has to take care of it.
Evidently, their little section of North Pole Flight Command is very busy at this time.
Of course, none of us regular elves can get in to that office – especially an elf like me with a microphone and a tape recorder. The elves in North Pole Security are a bit concerned about sharing information. They don't like talking to the News Department very much.
I understand why they have to be this way. But still I want to know more about the kinds of things they work on to keep Santa safe.
Even more I want to know more about people out there who might want to stop Santa.
Now, lest any of you worry, please understand that Santa has never fallen victim to one of these schemes. That's the good record of the North Pole Security Department. And you should know that Elf Agent X is confident that Santa will be okay this year.
I was able to ask one constant question we get from our site visitors. Santa knows when you are sleeping, he knows when you're awake, he knows if you've been bad or good, so be good for goodness sake….you know how the song goes. People want to know, is this true? And it is the work of the North Pole Security Department – to spy on people?
Elf Agent X says NO, NO and NO.
Santa does not spy on people. He does not keep a list of naughty people or good kids. That is the stuff of songs, movies and books of fiction.
Now, of course, Santa wants you to be good. And the North Pole Security Department wants people to leave Santa alone and let him deliver Christmas. But the truth is that, no matter what, there will always be people out there with other ideas. Ideas that are NOT GOOD.
The North Pole Security Department learns about these things in various ways. Some flat out send messages to Santa telling him of what others are planning. Some talk about their plans online. The North Pole Security Department has a lot of ways to learn about plans the thwart Santa.
Elf Agent X refuses to talk about how he finds this stuff out. He just does.
He tells me they are very busy right now and that's all you need to know about the North Pole Security Department.
In other news, North Pole Flight Command went to 24-hour operation at all the Regional Tracking Centers around the world. They talked about this today on North Pole Radio News in their report for Kringle Radio. You can hear that in the player below.

https://santaupdate.com/wp-content/uploads/2021/12/121721.jpg
320
845
Elf Ernest
https://santaupdate.com/wp-content/uploads/2023/01/newlogo23f.png
Elf Ernest
2021-12-17 00:01:39
2021-12-13 18:43:56
North Pole Security Hard at Work