Hi ho! Only 22 weeks to go! Christmas is getting closer and closer every day.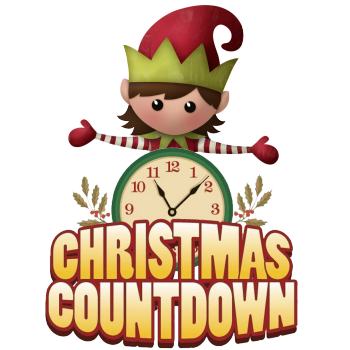 There is so much I want to tell you. But some things I just can't. I'll just say the news is going to be coming out fast and very soon.
I don't remember Christmas-in-July being this crazy last year. There are people everywhere and a billion things going on.
What about you? Are you doing anything with Christmas-in-July?
This weekend, of course, we are hearing the radio replay of last Christmas' Tracking Santa Around the World Radio Show on Kringle Radio. You can listen in, too. Lots here are having good laughs with this playing around the clock.
Many elves are engaged in lots of outside play this weekend. Its the biggest weekend of Christmas in July. Someone came up with the brilliant idea to fill the dunking booth with eggnog and now the line to participate is a mile long.
But that is just the beginning of the craziness.
There is a huge art exhibit over at the fair grounds, headed by Elf Molly. The theme is "Santa" and there are more than 1200 entries. There are pictures, paintings, sculptures and other works of art all depicting Santa. One of the most stunning and the one that seems to be getting all the attention is a sculpture that stands more than 9 feet tall showing Santa getting out of his sleigh. It's massive. But what makes it so mesmerizing is that it is made entirely of sugar.
No matter what angle you view this thing Santa just sparkles and it is pure magic. Santa himself went to look at it yesterday and he was shocked when he first saw it. He just couldn't believe his eyes.
Santa was at the fair grounds for a different reason, however. The Sleigh Museum has an exhibit called "Christmas Past", and it showcases 100 different sleighs from over 100 years ago. Of course, Santa has flown in every one of those sleighs and he opened the exhibit with a little speech.
The lines for the sleigh exhibit are quite long, too. People just love those old sleighs.
But Santa at first didn't want to see the art exhibit. He didn't like the theme.
Santa, you see, is really a shy guy and he didn't like being the center of the attention at the art exhibit. He thought it might look weird if he even showed up for it. I only later learned that the theme was actually the idea of Mrs. Claus and that SHE dragged Santa to the display. He ended up really enjoying it but he commented many times that he was uncomfortable being the subject of the entire thing.
These are just a few of the things going on this weekend.
But there is real work going on, too.
The test flights for Santa's sleigh are scheduled to begin on Monday, North Pole Flight Command just announced. That means everyone, from the sleigh guys to the reindeer handlers, will be working a lot now, too.
Plus, I'm told Elf Roger Star will be making another big announcement this next week, too. That's the one I can't tell you about. I'll just say it's big news.
So kids. Keep in touch, eh?
Until next week!

https://santaupdate.com/wp-content/uploads/2022/07/072322.png
321
845
Elf Trixie
https://santaupdate.com/wp-content/uploads/2023/01/newlogo23f.png
Elf Trixie
2022-07-23 11:30:13
2022-07-23 11:08:36
22 Weeks Until Christmas