Hi everyone! There are just 8 months until Christmas and, honestly, Christmas feels like just a month away.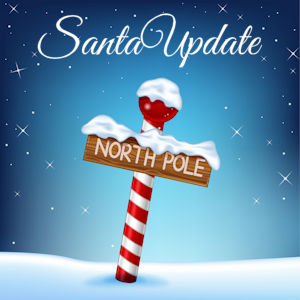 There is a kind of new energy here at the North Pole that is a little unfamiliar and quite fresh. I kinda like it.
But I know some elves are feeling less than great about it. But that is because they are new and doing new things.
The effort to "find Santa", as explained the other day by Mrs. Claus, is starting to obsess some of the elves here at the North Pole. So many elves are getting involved in the effort.
Elf Roger made an announcement at North Pole Flight Command Saturday about launching the North Pole Navy in the effort. That's just the beginning. Sleighs, reindeer and scout teams are gathering at Flight Command this week, too. All there are getting ready to launch the all out effort to find Santa.
The same is happening at North Pole Security, which, of course, keeps a tight lid on what they are exactly doing. Those elves are holding meetings, too.
I'm not sure what Elf Crash Murphy is doing yet with the Tracker Elves who track Santa for Santa over at SantaTrackers.net. But I hear even those guys are getting busy with this too.
Some elves are saying it all seems a bit much for just a training exercise.
I have a feeling though that Mrs. Claus is about to sweeten the pot, so to speak. Rumors out of her office say she is soon to announce a contest element to this – some sort of prize will be given to the elf or elves who actually can locate Santa.
Well, what kind of a prize can be offered that will make this effort more exciting?
I have no idea. But I'm told elves are going to "go crazy to win the prize" when Mrs. Claus announces it.
The effort to find Santa will evidently go from being work to being a ton of fun given the prize or prizes that will be involved.
The effort to find Santa is likely to impact some other things here at the North Pole – namely, Leon Day and Christmas in July celebrations.
I'll be attending meetings later next month to discuss that but the vibe I'm getting is that finding Santa will eventually become even more important than those events.
So, with all this stuff going on, I think it is fair to say there is a different wind blowing at the North Pole. Things feel good, but just a little different.
What does it mean? Well, that story is yet to be told. But stick with us. We're going to tell it!

https://santaupdate.com/wp-content/uploads/2023/04/042423.png
320
845
Elf Ernest
https://santaupdate.com/wp-content/uploads/2023/01/newlogo23f.png
Elf Ernest
2023-04-24 00:01:52
2023-04-22 10:17:52
8 Months Until Christmas